Learn Every Reason Why AODD Pumps Are Perfect for CBD Production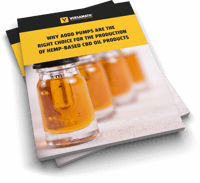 There are countless methods of extracting CBD oil from hemp plants. Each extraction process presents its unique challenges, which is why you need a resource you can trust to find the right pump for your application.
In this whitepaper, you'll learn about:
The primary CBD oil extraction methods
The CBD oil processes where AODD pumps are the best solution
The reasons why AODD pumps are advantageous over other pumping technologies
Which Versamatic AODD pumps are commonly used in hemp-based oil applications
Fill out the form to download the whitepaper.