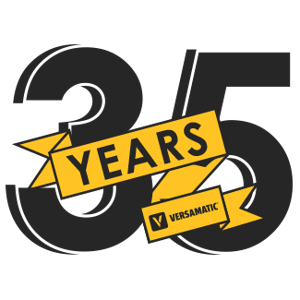 Since Versamatic's founding in 1983, we've set the standard of performance in air-operated double-diaphragm pumps. We provide reliable, quality AODD pumping solutions for customers globally who value simplicity, quick delivery and convenience.
The Versamatic Advantage
When you purchase a Versamatic pump, you're getting so much more than just an AODD pump. You're getting the support from a team of experts throughout the process, from selecting the pump to purchasing and providing post-sales support. We're here to help and answer any and all of your questions, no matter how big or small. With Versamatic, you can expect:
Reliable performance: Versamatic pumps are designed to reduce downtime by ensuring continuous, reliable pump performance.
Products & parts inventory: When you partner with Versamatic, you can expect short lead times and on-time delivery. We have the part you need, when you need it, in stock.
Ease of maintenance: Versamatic pumps have been specifically designed to make maintenance simple and cost-effective.
Elimination of downtime: Our patented air distribution system ensures continuous, reliable pump performance.
Application Versatility: Versamatic pumps can effectively handle a broad array of fluid types from water to products that are viscous or abrasive. They can run dry, handle solids and are self-priming.
Global distribution: Our industry-leading distribution network and sales team provide you expert solutions, convenience, local service and support no matter where you're located in the world.
Complete product offering: We produce a full line of metallic bolted, non-metallic bolted and metallic clamped air-operated pumps offered in various materials of construction for all your pumping needs.
World-class manufacturing & quality: Our award-winning facility and operations make us one of the largest and most capable AODD pump manufacturers in the world. Every pump is tested after assembly to ensure quality.
Support: We have a test lab in-house, an engineering team to support your design and product questions, on-site customer training and a team of experts with decades of pumping experience.
No matter your industry, you can count on the consistency, reliability and trouble-free operation of our pumps—as well as the expertise of our team—to reduce downtime and keep your process running at maximum efficiency and profitability.