Selecting the right diaphragm for an air-operated double-diaphragm (AODD) pump is critical to the safety and efficiency of AODD pump operations. The right diaphragm will increase the reliability, performance and life of the pump, decreasing downtime and increasing profitability.
We offer diaphragms in multiple materials, including Neoprene, PTFE (Teflon), Nitrile (Buna-N), EPDM (ethylene propylene diene terpolymer) and Santoprene™. In addition to the multiple materials, Versamatic also provides different styles of diaphragms from domed and rugged to our groundbreaking FUSION™ with an integrated outer plate.
FUSION™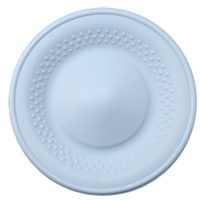 FUSION integrated-plate diaphragms go beyond bonding PTFE and rubber. They also meld the outer diaphragm plate into the design. This exclusive bonding process results in diaphragms that are stronger and longer-lasting than traditional designs.
Benefits of FUSION Technology
Extended flex life
Improved performance
Greater displacement per cycle
Eliminated leak paths
Easy installation and maintenance
Smooth, sanitary design
Fewer parts, lower inventory costs
Available for use in the majority of Versamatic pumps (½" to 3")
ORDER THE FUSION DIAPHRAGM
Domed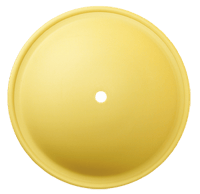 Versamatic's domed diaphragms have a simple, smooth dome shape that delivers the flex across the entire face of the diaphragm, resulting in longer life. Because they're so flexible, they can be installed and removed without the use of pry bars.
Benefits of Domed Technology
Available in all rubber and thermoplastic materials
Increased flex life over other diaphragm designs
Eliminates complex angles that cause internal stress and limited flexibility
Compatible with 1 ½", 2" and 3" pumps
ORDER THE DOMED DIAPHRAGM
Rugged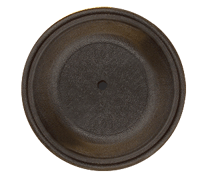 Eliminate your worries about diaphragm pump failure with Versamatic's rugged diaphragms. Made of high-quality, fabric-reinforced rubber, these diaphragms outperform and outlive standard diaphragms.
Benefits of Rugged Technology
Significantly reduces maintenance costs and downtime
Standard diaphragm for most Versamatic pumps requiring rubber or thermoplastic diaphragms
Available in Buna-N (Nitrile), Neoprene, EPDM (Nordel®), FKM (Viton®), Santoprene and Hytrel
ORDER THE RUGGED DIAPHRAGM
Two-Piece PTFE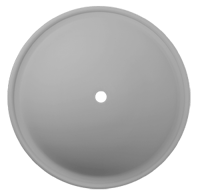 Since its introduction, this trusted diaphragm has a classic, reliable design providing chemical resistance and proven performance.
Benefits of Two-Piece Design
Can be used universally in all non-abrasive applications
Value option for chemical resistance and performance
Available in ½", 1", 1 ½" and 3" diaphragms
ORDER THE TWO-PIECE PTFE DIAPHRAGM