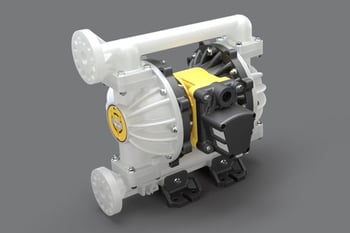 Pumping problems are frustrating in any fluid handling application because they typically result in lost production time and wasted resources. Air-operated double-diaphragm (AODD) pumps are known for being easy to operate and user-friendly — simply plug in your air and connect your suction and discharge lines and you're ready to go. But you can still run into pumping challenges from time to time.
For example, AODD pumps don't have a failure curve like centrifugal pumps do. With AODD pumps, you're either pumping or you're not pumping, so any problems can lead to a significant drop in productivity for your operation.
Fortunately, new diaphragm pumps are specifically designed to eliminate common pumping problems. Features include easy maintenance, interchangeable mounting components, and improvements in stability, sustainability, and safety. Together, these features boost productivity and make AODD pumping even easier. How? Let's take a look.
Easy Maintenance
All AODD pumps require maintenance. Diaphragms, balls, seats, valves — they all eventually wear out in any pumping application. The key is finding a pump that's easy to maintain when the time comes, so you can quickly fix it and get it back in service.
The new Valor Series of air diaphragm pumps from Versamatic is designed with ease of maintenance in mind. It takes an average of five minutes to service the air valves compared to approximately 45 minutes for other AODD pumps. The ability to quickly service the Valor comes from the fact that 95 percent of its airside components are accessible after removing just four bolts. You can easily pull out and replace the combined main air valve and pilot valve assembly without removing the pump from its service position. A complete teardown is not needed. Plus, if more extensive service is needed, an anti-rock feature allows you to set the pump on its side to make maintenance tasks safer and even more convenient.
Interchangeable Pump Components
When you're changing from one type of diaphragm pump to another, you want it to be as simple as possible. You don't want to re-drill holes to accommodate a new pump's footprint. You want your pump's porting heights to be flexible so you can accommodate different configurations. And you want pump parts and accessories to be as universal as possible across different pump sizes within your operation.
When you replace a competitive AODD pump with a Valor, you can easily match the footprint of your previous pump, saving you the time and hassle of reconfiguring your mounting positions. The Valor's porting height matches current Versamatic one-inch pumps and offers some flexibility for horizontal or vertical porting. Additionally, the Valor is now available as a one-inch pump but eventually will be available in three more pump sizes. The series will feature common center section components, and one airside seal kit will work across all pumps in the series.
Stability, Safety, and Sustainability
Pump stability and safety go hand in hand. It's much easier to work on a pump when it's not rolling around. Likewise, the easier it is to properly install parts, the safer the pump will operate, reducing the risk of leaks and malfunctions.
Technicians appreciate the Valor's anti-rock feature, which allows you to set it on its side for maintenance, making it much more convenient and safer to work on. Other Valor features that are safer and simpler than competitive pumps include TPE and elastomer diaphragms with perimeter seals that don't have to line up to chamber bolts. Additionally, all the wetted fasteners are the same, so you can't install the wrong one.
In terms of sustainability, the Versamatic team leveraged engineering strategies like finite element analysis and computational fluid dynamics to ensure the Valor will work more efficiently and last longer than previous AODD pumps. For instance, the chamber and manifold designs improve ball life and optimize the pump's overall performance. Not to mention, Valor has the leading flow rate of any other one-inch AODD pump and consumes up to 20% less compressed air compared to competitor pumps.
With its proven efficiency, maintenance advantages, convenience, and safety features, the Valor is primed to be the industry-leading one-inch AODD pump. To find out if this pump is right for you, contact us anytime or connect with your local authorized distributor.