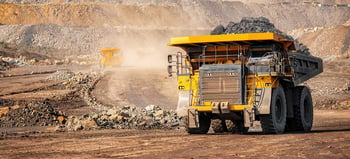 Air-operated double-diaphragm (AODD) pumps are critical pieces of mining equipment and are deployed in various mine locations around the globe. From coal mining to hard rock, AODD pumps are used in a wide range of applications to keep mining processes productive and safe.
AODD pumps are used in virtually all forms of mining: underground, open-pit, dredging and in-situ. Of the four types of mining, underground uses the most AODD pumps, but all utilize these pumps regularly. From the slope to the drift or the face, you will find mining pumps working to keep miners safe.
Popular Mining Applications Where AODD Pumps Are Commonly Used
Mine Dewatering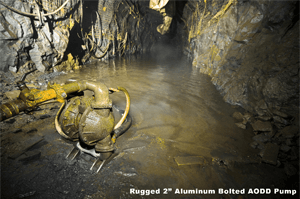 When mining underground, water will travel to the lowest point. AODD pumps are used to move this water to a central basin where it is then pumped aboveground for treatment. Common locations for dewatering include drift dewatering, face dewatering under drilling equipment, mud and muck pumping and belt dewatering.
AODD pumps are heavily used to pump mine water from trenches and low points and transfer it away from working areas, usually to a central sump. Some mines also use portable pneumatic centrifugal dewatering pumps for localized dewatering applications, similar to how AODD pumps are used.
For example, they're an excellent choice for belt head washdown applications found in coal mines. The mine water is pumped to a sump to be captured, then pumped to the surface with large multistage electric centrifugal pumps or other high-flow/high-pressure rotating pump technology.
This process keeps the working area free from deep water and helps with miner safety, protects equipment and improves productivity. In longwall coal mining, for example, the pumps keep water away from the mining "face," especially when the face has a lower elevation than the rest of the mine. If water is deeper than the toe of a miner's boot in working areas, safety officers can shut a mine down or issue hefty fines to the mine site.
AODD Pump Sizes and Types Typically Used for Mine Dewatering
Most mine dewatering pumps are 2" or 3" units that can deliver flows up to 280 gpm (1,060 lpm). These pumps are commonly constructed of aluminum and are fitted with rubber diaphragms and seals (nitrile, neoprene) when handling mine water. Aluminum- and nitrile-fitted units may not always be the best solution depending on:
Acidic Water: If the mine water is highly acidic, then some accounts may choose to use cast iron, stainless steel or plastic diaphragm pumps for compatibility. They may also fit the pump units with Santoprene elastomers, as that material performs well with acids and is very abrasion-resistant.
Pump Weight: Since the pumps are moved around the mine by hand in many cases, the mine might set weight restrictions or guidelines. Those guidelines may also be set by mine safety governing bodies depending on the country the mine is located in. If weight is a key factor, choose lighter-weight plastic units or go down in size to a 1 ½" (38mm) pump to keep the pump weight down.
Regulated Pump Materials: Some pump materials may not be permitted in each mining market. Consult the local regulation for details.
Clamped or Bolted Construction?
Clamped and bolted construction units are very popular for dewatering.
Clamped: Clamped construction pumps are very simple to take apart, with very few tools required. With clamp-style units, you can take the manifold off easily to remove the debris on-site without having to move the pump to the repair area.
Bolted: Bolted units are also easy to repair but can take more time to disassemble if pneumatic tools are not available.

Bolted pumps can be repaired many times without the need to replace clamp bands that can stretch and are considered wear components.
Bolted units can be sealed easier than clamped units, which is especially critical when pumping hazardous fluids.
Some other popular mining applications where AODD pumps are used include:
Equipment Maintenance
Lubrication: AODD pumps are used to pump oils and lubrication for large earthmovers, excavators, scoop trams and other mining equipment.
Tire Filling (Liquid Ballast): AODD pumps are used to fill the enormous tires used on excavation equipment full of calcium chloride.
Fuel Transfer and Dispensing: It's common to find AODD pumps being used to transfer fuels like diesel at mine sites to power equipment.
Metal Extraction and Refining:
Leaching Chemicals: For metal mining (i.e., gold, copper, nickel and others), rock and ore are crushed into powder and chemicals are added to leaching piles where chemicals are dripped onto the piles. The metals attach to the chemical and leach through to where they can be captured and then extracted from the chemical. AODD pumps dispense and transfer the leaching chemicals.
Environment Remediation/Waste Treatment:
Settling Ponds: When the water is removed from the mine and brought to the surface, it's placed into ponds where it can be treated. The water may contain contaminants, and in many cases, especially in coal mining, it can be very acidic. In order to protect the environment, the water needs to be neutralized and treated prior to being released back to the environment. AODD pumps are used to dispense neutralizing chemicals, flocculants and other process chemicals. They're also used to transfer water to tanker trucks if water removal and treatment is off-site.
Filter Press Feed: AODD pumps are excellent filter-press feed pumps because they can run until deadhead, delivering a dry cake at the end of the process, saving the end user money on disposal.
AODD Mining Pump Advantages
AODD pumps are an ideal choice for the mining industry because they:
Are run-dry capable: AODD pumps will not be damaged if they run dry intermittently. Pumps running dry are very common, especially in sump dewatering and tanker unloading applications.
Can handle solids: They can pass solids without damage to the pump. Ball valve units can handle solids up to nearly 0.75" (19 mm) in diameter, and flap valve units can pass nearly line-sized semi-solids.
Are self-priming: Unlike some other pumping technologies, AODD pumps are self-priming and do not require positive inlet pressure to prime.
Deadhead safely: AODD pumps can be deadheaded with no pump or product damage.
Have excellent chemical and temperature resistance: AODD pumps can be manufactured out of a wide range of materials so that they can handle a broad array of fluids and temperature ranges.
Require no electricity: AODD pumps require no electricity and can be grounded for safe, reliable operation in explosive environments. This is critical for safety when pumping flammable liquids or when a pump is in an environment where fumes are present.
Are submersible: They can be submerged completely and safely with no performance issues.
Can handle a wide range of viscosities, pressures and flow rates: With flow rates of up to 280 gpm (1,060 lpm), AODD pumps provide a wide range of flows. They can handle pressures up to 125 psi (8.6 bar) and just about any fluid that can flow up to 90,000 cSt (415,500 SSU).
Are portable: They can be easily moved and only require compressed air to operate.
Are easy to install: AODD pumps do not need to be laser aligned and do not require complex controls to operate effectively. They simply need air supply.
Are easy to repair: AODD pumps are very simple by design and can be easily repaired on location without extensive training or the need for sophisticated tools.
Are available in high-pressure pump options: 2:1 ratio pump units are available when pumping fluid long distances or long vertical distances. They're also used for more viscous products like mine roof bolting epoxies or, in some cases, filter press feed pumps.
Versamatic AODD pumps can be used in a wide array of mining applications and industries and can pump an endless variety of products. If you have any questions about our AODD pump applications or pumping solutions, please contact us or find a local distributor.