Countless industries across the world depend on pumps to keep their processes working at top speed.
A malfunctioning pump can spell disaster. Unplanned downtime, costly repairs, product loss and environmental or budget issues can occur if a pump fails.
When selecting a pump for your plant, factory or job site, you need:
Reliability: Your pump should offer continuous, trouble-free performance.
Versatility: Your pump should be able to effectively handle a broad array of fluid types, from water to products that are viscous or abrasive.
Ease of maintenance: Your pump should be designed to make maintenance simple and cost-effective.
Finding the Right Pump
If you've ever researched industrial positive displacement pumps, you know there are many choices, including lobe, gear, screw, hose, piston/plunger and air-operated double-diaphragm (AODD).
How do you choose which type is right for your application?
Fortunately, one type of pump combines reliability, versatility and ease of maintenance with many other advantages: the AODD pump.
The Advantages of AODD Pumps
AODD pumps deliver unique benefits that are unrivaled by other pump technologies.
AODD pumps:
Can run-dry without damaging the pump or system.
Can pump solid-laden fluids without pump or product damage.
Are self-priming and work in suction lift applications.
Deadhead safely with no pump or product damage.
Are shear sensitive—they don't shear or separate the product being pumped.
Require no electricity and can be fully grounded.
Have a low initial purchase price compared to other technologies.
Are submersible—they can be submerged completely without safety or performance issues.
Have a sealless design and don't require expensive mechanical seals or packing.
Offer variable flow and head pressures without sophisticated controls.
Comparing Pump Types
Because there are so many different types of pumps, it can be difficult to figure out which will work best for your needs. The chart below can help.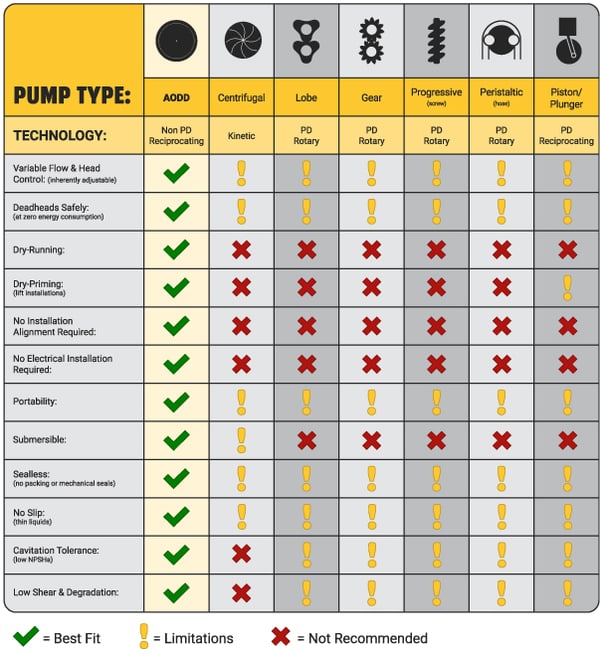 Making a Choice
You've researched your options and decided an AODD pump is the right choice. You know AODD pumps will keep your systems running optimally. One choice down, one to go: selecting an AODD pump manufacturer.
For almost 40 years, Versamatic AODD pumps have handled the most challenging pumping applications and provided superior AODD pumping solutions for customers who value quick delivery, local service and support from a team of design and engineering experts with decades of pumping experience.
With a comprehensive line of pumps, Versamatic products are designed to make maintenance simple and cost-effective.
You can count on the consistency, reliability and trouble-free operation of Versamatic pumps to reduce downtime and keep your process running at maximum efficiency and profitability.
Have questions about whether Versamatic can provide the pumping solution for your next project? Reach out today or find a local distributor.