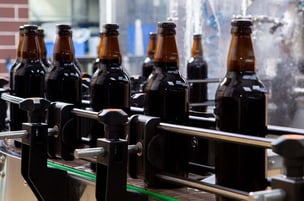 If you work in food processing, you know the industry relies on hygiene. If food is not handled properly or becomes contaminated, it can spell disaster for large and small companies and the supermarkets and restaurants they supply.
The Focus of Food Processing Manufacturers
Hygiene is perhaps the number one concern for food processing manufacturers. However, just like other businesses, food companies must remain profitable. So, in addition to cleanliness, companies also focus on minimizing product waste and maximizing energy efficiency.
While you can't always control the source of your ingredients, you can control the equipment you use. One of the most important pieces of equipment in food processing is pumps.
Pumps for Food Processing
The food processing industry requires a lot from pumps. They must be able to:
Handle different types of liquids, from low to high viscosity
Accomplish loading, unloading and transferring functions
Handle a broad temperature range
Ensure hygiene and protection from contamination
Handle routine cleaning/sanitization
There is one pump that can handle all food processing demands while keeping energy costs down for manufacturers: the air-operated double-diaphragm (AODD) pump.
AODD Pump Advantages
The versatility of AODD pumps makes them ideal for a variety of industries, but they are the clear choice for the food and beverage market because they:
Are shear-sensitive: The pumping action is gentle on the product being pumped.
Can handle solids: They can pass solids without damage to the pump or the product.
Are self-priming: Unlike some other pumping technologies, AODD pumps are self-priming and do not require positive inlet pressure to prime.
Are run-dry capable: The pump will not be damaged if it runs dry. It is very common for pumps to run dry, especially at the end of a batch or tank transfer.
Are easy to clean/sanitize: AODD pumps are simple to disassemble and clean. Some can go through a clean-in-place (CIP) process in which the pumps can be flushed and sanitized without being disassembled.
Meet required certification levels: AODD pumps are available in a wide range of certification levels (3-A, FDA and the 1935/2004 Food Contact Materials Standard) to meet the stringent needs of the industries they serve.
Are grounded for safety: AODD pumps can be grounded and do not require electricity to operate. This is critical for safety when pumping flammable food products like alcohol or spirits.
Are portable: They can be easily moved and only require compressed air to operate.
Can handle a wide range of viscosities, pressures and flow rates: With flow rates of up to 234 gpm (886 lpm), AODD pumps provide a wide range of flows. They can handle pressures up to 125 psi (8.6 bar) and just about any fluid that can flow up to 90,000 cst (415,500 ssu).
Have a low initial purchase price: In most cases, AODD pumps cost significantly less than other positive displacement pumps, such as lobe, gear or progressive cavity.
FDA-Compliant Pumps Versus 3A Hygienic Pumps
Two types of AODD pumps are geared toward the food processing industry: FDA-compliant pumps and 3-A hygienic pumps. Each offers different types of certifications:
3-A – In order for an AODD pump to carry the 3-A certification/symbol, it must be designed and manufactured to specific 3-A standards. To ensure the design standards are maintained, the certification is reissued every year.
FDA – To ensure the U.S. food supply is safe and sanitary, the FDA regulates many food products. To enforce laws, the FDA can remove products from the market, levy fines of up to $500,000 and even initiate criminal prosecution. FDA-compliant pumps are made with FDA-approved materials, like FDA Hytrel, FDA Santoprene, PTFE and stainless steel. Some manufacturers also offer electropolished stainless steel castings for a superior surface finish and to eliminate ferrous metals from contacting the products being pumped.
1935/2004 Food Contact Materials Standard – The certification (shown by the goblet and fork logo ) means food processing and hygienic pumps are made of lab-tested and approved materials that will not affect the composition of the food products they meet, such as 316 electropolished stainless steel, virgin PTFE, Hytrel 4069 and Santoprene 273-40.
Although FDA pumps and 3-A pumps are very similar, their uses in food processing are a bit different. FDA pumps, for example, are perfect for: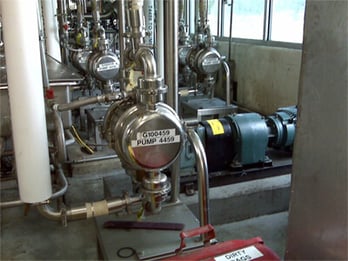 Orange juice
Citrus oils
Wine
Beer
Pie filling
Sauces
Flavorings
Condiments
Chili
Salad dressing
The products ideal for 3-A hygienic units are: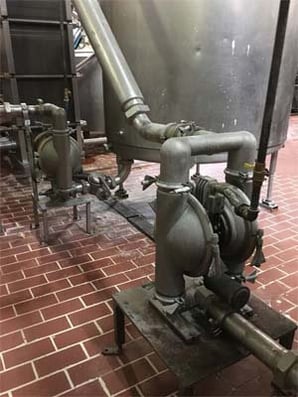 Milk
Cottage cheese
Yogurt
Coffee creamer
Sour cream
Chili
Soy sauce
Beer/wine
Juice concentrate
Flavorings
Corn oil/syrups
Salad dressing
Condiments
Remember: Typically, 3-A pumps are designed to be cleaned in place so there are no areas within the pump where food can become trapped and bacteria can grow. The surface finish on 3-A units is highly polished, which allows for greater sanitation. Because of this, 3-A pumps are usually used when there is a high risk for the product being pumped to grow bacteria (sour cream, milk, yogurt, etc.).
How to Choose Between an FDA Pump and a Hygienic Pump
Most AODD pumps used in food processing applications are torn down at the end of each shift and cleaned/disinfected to make sure no bacteria can grow between shifts and batches. Because of this, knowing the characteristics and capabilities of each type of pump is critical to saving time and money.
FDA Pumps:
Offer a highly polished surface finish of 150 microinches
Must be disassembled in order to be cleaned
Need to be manually flipped to drain
Hygienic Pumps:
Offer a highly polished surface finish of 32 microinches
Are CIP capable
Offer a rotating pump stand for pump drainage
Are third party-certified and tested
When considering what type of pump will work best for your application, the most important questions to ask are:
What certification levels (if any) are required?
What is being pumped?
How will the pump be sanitized/cleaned?
What is the budget?
AODD Pumps: Known for Safety and Durability
Many food processing applications don't require FDA/hygienic pumps. Some popular applications that need standard AODD pumps are:
Sanitization Chemicals – Sanitization chemicals are widely used in food processing plants to reduce the presence of bacteria. The chemicals are used to wash down floors and tables and for cleaning "pigging" lines between batches. Small ¼", ½" and 1" plastic pumps are used to handle those chemicals, pumping from totes to line injection, product formers or other distribution methods. They are widely used in meat and dairy applications for sanitization.
Sump Pumps – AODD pumps are the best choice for sump pumps in food plants, as they can handle a wide range of fluids, can run dry and can handle solids. After lines are sanitized with chemicals and washed down, the runoff goes to a sump prior to being recycled or sent to a treatment plant. Larger plastic or stainless pumps are popular choices because of their chemical resistance and flow rates.
The Right Pump Saves Time and Money
For an industry as scrutinized as food processing, it's critical to choose a pump that can handle a variety of liquids at broad temperature ranges, ensures hygiene and handles routine cleaning and sanitization. Obviously, making sure your production process complies with the law and FDA regulations is essential.
If you choose the wrong pump, you're opening up your company to potential lost revenue and litigation, as well as a public relations disaster.
Versamatic's FDA and hygienic AODD food processing pumps offer exceptional cleanability, ease of maintenance and superior reliability.
Versamatic's FDA pumps include the ½" (13 mm) and 1" (25 mm) bolted metal food processing pumps and the 1 ½" (38 mm), 2" (51 mm) and 3" (76 mm) clamped metal food processing pumps. They all feature:
Electropolished stainless steel wetted castings: give a smooth/clean surface finish of 150 Ra or better for easier cleaning/sanitization
Hygienic fluid connections: Tri-clamp fluid connections make installation and cleaning simple.
Chemical-resistant air sections: protect against chemical wash down (stainless steel, polypropylene and nickel-plated aluminum available)
Conductive ATEX: ATEX-compliant designs are standard so units can be grounded for safety.
Clamped construction: easy breakdown for cleaning
Versamatic's hygienic pumps include the 1 ½" (38 mm) and 2" (51 mm) clamped metal hygienic AODD pumps that feature:

Removable valve ball cages: simple cleaning and disassembly
Hygienic fluid connections: Tri-clamp fluid connections make installation and cleaning simple. Clamped construction: easy breakdown for cleaning
CIP design: quick cleaning without full disassembly
Chemical resistance: For optimum chemical resistance, choose from stainless steel wetted, non-wetted and pump stand options.
Integrated plate-bonded PTFE diaphragms: Integrated plate-bonded FUSION diaphragms deliver a clean, smooth surface for simple cleaning and long life.
A wide range of diaphragm materials: Different diaphragm materials can handle a broad array of fluids and temperature ranges.
Conductive ATEX: ATEX-compliant designs are standard so units can be grounded for safety.
The Versamatic leak detection unit comes standard on all 3-A sanitary diaphragm pumps, delivering peace of mind by reducing the chance of contamination to the product from the air-side.
Trust Versamatic for outstanding durability and reliability that minimize downtime and keep your operations running smoothly.