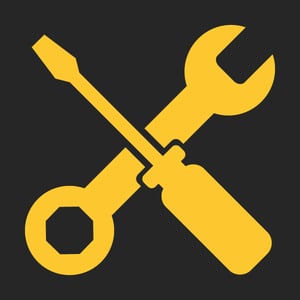 As a maintenance manager responsible for a plant full of equipment and machinery, you know the importance of keeping everything running smoothly to maintain your production schedule and minimize downtime. After all, production interruptions lead to lost revenue and should be avoided whenever possible.
Though air-operated double-diaphragm (AODD) pumps are known for their consistency and reliability, just like any piece of equipment, they need routine maintenance and repair to ensure long-term durability.
When a pump comes to an unexpected stop, it can be detrimental to the system or process. You first need to understand if the issue is on the air end (pilot valve, main air valve) or on the wet end (diaphragms, balls, seats). Once understood, you can begin diaphragm pump maintenance and repair.
Air End
If it is determined that the root cause is on the air side, you will be focusing on both the pilot valve assembly and the main air valve assembly.
Dirty air is the most common cause of air end issues. If pipe sealant, weld berries or dirt is seen during disassembly and evaluation of components, an inline filter may be necessary. If dirt and debris are not present, but process fluid is, you may have a diaphragm failure or loosened diaphragm plate assembly. Once the components are cleaned, inspected and replaced, the main air valve and pilot valve can be reinstalled on the pump.
In many cases, to save time and rule out wet-end components, end users will keep spare air valves and pilot valves on the shelf to test their pump. Wear components on the main air valve are a series of O-Rings and Glyd Rings or U-Cup Seals. These can be replaced as individual components or purchased as a complete kit.
On the pilot valve, the self-sealing floating pneumatic O-Rings are to be evaluated and replaced if needed. Aside from wear items, you'll want to ensure all air passages are free and clear of debris before reinstallation.
Many other technologies require factory representation, special tools or testing prior to reinstalling the pump into the system. This can be costly.
The inherently simple design of the AODD pump allows for repair virtually anywhere, with complete rebuilds commonly performed on the tailgate of a truck. In addition to being simple to work on, Versamatic pumps are backed by some of the best technical support in the industry, including the following:
Data Sheets: Flow curves, weights, dimensions
Manuals: Exploded view of the pump, materials of construction
Videos: Repair videos (air/wet side)
Wet End
One clear indicator of diaphragm failure is exiting the pump through the exhaust. If this occurs, the pump needs to be shut down, isolated via suction and discharge valves, and removed from the system for repair. After the pump has been flushed and disassembled, you will want to inspect the diaphragms.
Depending on what is being pumped, you might see:
Punctures: Something sharp has been introduced to the pump and caused a hole or cut. A basic screen filter, if possible, can be installed on the suction line prior to the pump.
Scratch Marks: Higher fluid inlet pressures can cause scratch marks on the air side of the diaphragm where contact is being made with the inner chamber. This is most common in flooded suction applications. Either raise the pump so that the centerline is closer to the fluid or install a back pressure device on the exhaust to cushion the backside of the diaphragms.
Stretched Center Hole: Caused by either an incorrect torque value on the outer diaphragm plate, causing it to back off, or high fluid inlet pressures over-stretching the diaphragm. Torque values can be found in the Service and Operating Manual.
Bubbling or Deterioration: If the diaphragm shows either of these signs, it points toward chemical attack. Check the MSDS of the product vs. a reliable

chemical compatibility guide

.
Choose a Partner You Can Rely On
When it comes to choosing a pump manufacturer, make sure you are selecting an experienced, well-established company with a proven track record.
Since 1983, Versamatic's AODD pumps have become the first choice for customers around the globe who value reliability, quick delivery and convenience. Our AODD pump parts and accessories improve performance and productivity, while extending mean time between failures.
We offer a variety of tools and resources to support your AODD pump, from initial selection to troubleshooting and diaphragm pump maintenance. Let our experienced staff solve your maintenance, repair and performance issues quickly to keep your operations running smoothly and efficiently.
Find these tips useful? Share which tip helped you the most in the comments below.