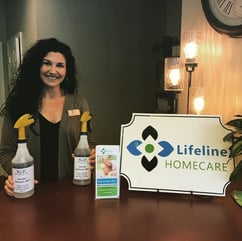 While usually known for its bourbon production, The Old Pogue Distillery in Maysville, Kentucky has joined the fight to combat COVID-19. This distillery has successfully converted its facility to produce alcohol antiseptic 80% topical solution hand sanitizer.
Using a Versamatic pump, the Distillery is transferring high proof alcohol between tanks and into high-density polyethylene (HDPE) containers, including buckets and spray bottles. To produce sanitization products, the Distillery was not able to use its normal pumps as the FDA requires very strong bittering and denaturing components in the process, which would contaminate the pumps used in the usual food grade process. The Distillery made the switch to a 1" (25mm) FDA Stainless Steel AODD pump to isolate this special transfer work. Using existing AODD pumps at their location, The Old Pogue Distillery did the right thing, inquiring with its pump manufacturer, Versamatic, before completing the conversion process.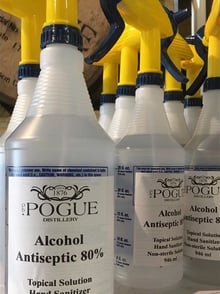 Once the Distillery converts back to its usual production of bourbon, they will be able to continue using their stainless steel AODD pumps once the bittering agents are sufficiently removed. The Old Pogue Distillery is pleased to report that in its first week of production, they've manufactured 200 of the initial 500 gallons requested. Demand is continuing to grow, and its local county emergency team has been tasked with distributing the sanitization products. Currently, the hand sanitizer is being distributed to hospitals, healthcare facilities, and first responders.
In the words of The Old Pogue Distillery, "the community is very grateful." Versamatic is proud to support customers like The Old Pogue Distillery.