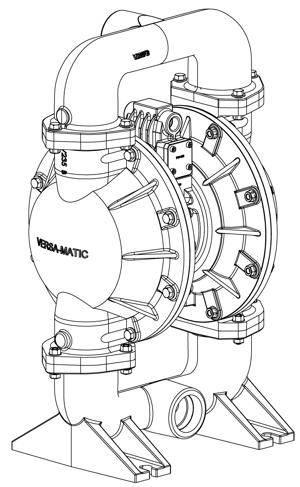 In order to select the appropriate air-operated double-diaphragm (AODD) pump, it's important to understand the required flow rate in order to achieve maximum AODD pump efficiency.
Diaphragm pump flow rate is the volume of fluid you can transport within a given time. Knowing the diaphragm pump flow rate will help you:
Assess if an existing pump isn't working efficiently
Determine the correct pump for your application
Allows for efficiency calculations to occur showing cost savings
If you desire a higher flow rate, you'll need a larger pump with larger port sizes. The higher the flow rate, the faster your job gets done. This ensures deadlines are met and allows increased production. When more product is produced in a shorter amount of time, profits soar. That's why it's important to purchase diaphragm pumps that require less air to operate and offer high flow rates.
Air-Operated Diaphragm Pump Flow Rate Calculation
There are two types of flow you can measure: total fluid that has passed by a sensor or time-based data like gallons per minute (gpm) or liters per minute (lpm). What kind of pump flow rate do you want to measure?
There are many tools and accessories you can buy to measure the flow of fluid within a pipe. Common types include electromagnetic, ultrasonic, turbine and magnetic—each with their own pros and cons. If your system is not equipped with a flow meter but you'd still like an idea of flow, there are other ways to determine this.
First, you need to understand how many strokes the pump is making per minute. There are several apps that can track your count, or you can simply count how many happen in 10 seconds and then multiply that value by six. You will then reference the pump data sheet (performance curve and specifications). A pump performance curve will help you to determine a pump's ability to produce flow under the conditions that affect pump performance, such as air pressure. See below an example of an AODD pump performance curve.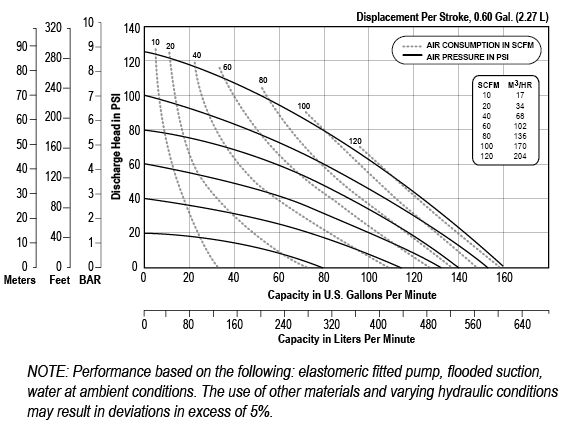 Above the AODD pump curve, you will see displacement per stroke, which is 0.49 gal. (1.85 L).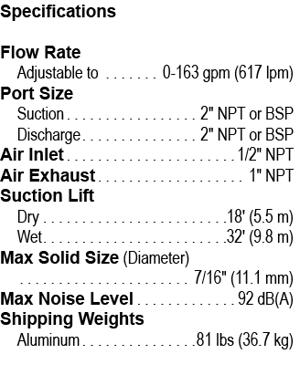 A stroke is one shift of the diaphragm assembly evacuating fluid out of one chamber.
A cycle is two strokes or one on each side of the pump. To get the gpm of your pump, multiply the number of strokes by the displacement per stroke.
AODD pump flow rates can be controlled to produce from zero to maximum flow simply by increasing or decreasing airflow or pressure.
Standard 1:1 ratio AODD pumps can produce pressures up to 125 psi (8.6 bar). With flow rates of up to 280 gpm (1,060 lpm), AODD pumps provide a wide range of flows without costly, sophisticated controls.
Specialty pumps, such as 2:1 high-pressure units can produce pressures up to 240 psi (16.5 bar). High-pressure units are usually used in applications requiring greater force, such as injecting into a pressurized line.
Sizing an AODD Pump
To get the greatest efficiency and longevity when sizing an AODD pump, it is common to go up one porting size if possible.
For example, if you want to move 40 gpm (151 lpm) with 10 feet (3 meters) of head with a 1 inch pump, most AODD manufacturers on the market could achieve that flow rate pumping water. Unfortunately, the pump would have to work at near its maximum capacity and stroke rate, leading to greater wear and reduced AODD pump efficiency.
By going up to the next pump size, you can run the pump significantly slower (at reduced strokes per minute), which will extend the life of the pump and enhance efficiencies (i.e., reduced air consumption).
Need a Pump?
When it comes to choosing your pumping partner, make sure you select a manufacturer with deep pumping experience and a track record of maximizing AODD pump efficiency. Versamatic makes pumping easy with its complete line of bolted metal, bolted plastic and clamped metal AODD pumps offered in a wide range of sizes and flow rates. If you have questions about any pumping solutions or diaphragm pump flow rates, feel free to contact us or find a local distributor.
Find these tips useful? Share which tip helped you the most in the comments below.