If your job involves pumping slurries and solid-laden fluids, you know it's not always an easy task. Slurries and solid-laden fluids provide unique challenges:
They can be especially heavy depending on the materials being moved causing your pumps to work harder than a liquid-only material.
They can have varying viscosities which can be problems for pumps built to move only specific types of materials.
They can cause a buildup of sediments due to the varying density of materials that can negatively impact your pump performance.
The above causes them to more aggressively wear down your pump parts due to the greater fiction of the materials being moved.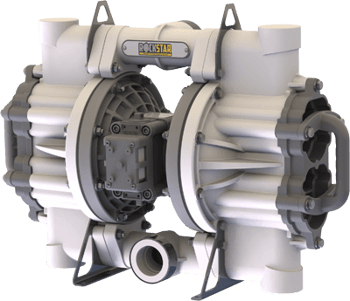 Whether you're in the mining, chemical, oil & gas, or wastewater treatment industries — or an equally challenging market — difficulties are sure to arise due to the harsh nature of the environment and the material you're pumping.
You may need a plastic flap-valve pump that won't clog, doesn't require electricity, and can withstand corrosive fluids. You likely need a pump that can be fully grounded, is portable, and can function in any position. There's little doubt you'd also like a pump that's easy and quick to maintain.
If these issues sound familiar, it's clear you need an air-operated double-diaphragm (AODD) pump that makes your life easier, not more complicated.
Right Pump in the Right Place
Many pump problems come from not having the correct pump for the task at hand. This is especially important when you're dealing with a challenging application, such as pumping solids and slurries. Improper pump selection can lead to a host of issues, including pump parts that wear out quicker than they should and pumps that fail prematurely.
When choosing a pump for any slurry and solid-laden fluid handling operation, it's best to start by gathering basic information about your application:
What are you pumping? How viscous is it and will the pump need to handle abrasive fluids, slurries, or solids?
What's your desired flow rate and what port size and connection type will you be using?
What's the temperature of your application?
Do you require FDA-compliant materials?
Is the pump being used in a potentially explosive environment and does it require grounding?
The answers to these questions will guide you toward the right pump.
Tip: The team at Versamatic makes pump selection easy with the Pump Selection Tool. This free online application walks users through a few simple considerations to identify the pump they need.
The that makes slurries easy
We've found the best solution for most of your heavy-duty and slurry-related needs is the Versamatic Rockstar, otherwise known as the 2" (51MM) Solids Handling Plastic Flap Pump. It was designed specifically for these situations:
Features a top suction, bottom discharge design that works with gravity to prevent particulates from settling inside its inner chambers
Is capable of passing entrained solids up to 1.8" (45.7mm)
Is lightweight, durable and portable, weighing 58 lbs (27 kg)
Features easy access to flap valves, which can be quickly cleaned or replaced without removing the pump from service
Has strong manifold connections thanks to optional flanged or threaded connections and stainless steel reinforcing rings
Consumes less than 65 SCFM (110 M3/hr) at max pump flow for reduced annual compressed-air costs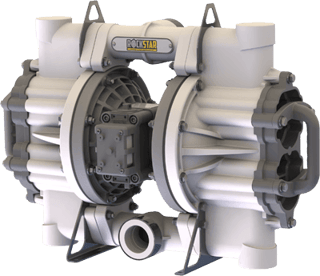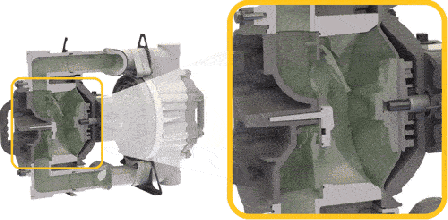 Pump Maintenance Is Key
After you're sure you've selected the right pump and it's up and running, it goes without saying that properly maintaining your AODD pump will save you time, money and headaches in the long run.
Familiarize yourself with pump maintenance basics, such as regularly inspecting your pump's diaphragms and routinely tightening the pump's hardware. Beyond that, understand the importance of clean air and a controlled air supply.
And don't underestimate the power of simply choosing a pump that's easier to maintain than its competitors and predecessors. Rockstar falls into this category. In fact, it descended from the first AODD pump manufactured by the founder of Versamatic's parent company, Warren Rupp. The Rockstar builds on some of Rupp's earliest AODD pump innovations, including a flap valve that allows larger solids to pass through it, and a top suction/bottom discharge configuration, which uses gravity to its advantage.
Decades after Warren Rupp first launched these heavy-duty flap valve pump features, Versamatic experts created a new iteration: Rockstar.
Rockstar is a great choice for any operation that needs a robust yet lightweight slurry pump and wants to reduce its time spent on maintenance. Why? Rockstar can be repaired in minutes thanks to its removable end cap, giving users access to the flap for easy cleaning without the need for disassembly.
If you're looking to improve the quality of the heavy-duty flap valves in your fluid handling operation, don't overlook Rockstar. To learn more, get in touch with the Versamatic team or your local AODD pump distributor today.