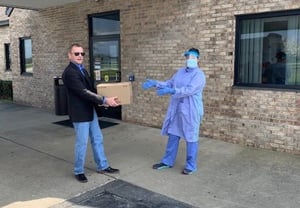 At the beginning of the COVID-19 pandemic, you may recall a Versamatic customer, The Old Pogue Distillery, that quickly converted its bourbon-making efforts to producing an alcohol antiseptic 80% topical solution hand sanitizer for COVID-19 relief efforts. The Old Pogue Distillery used a Versamatic pump to transfer high-proof alcohol between tanks and into high-density polyethylene (HDPE) containers, including buckets and spray bottles. In order to comply with FDA regulations, they started to use a Versamatic 1" (25mm) FDA Stainless Steel air-operated double-diaphragm (AODD) pump.
We're pleased to report that The Old Pogue Distillery ultimately produced approximately 500 gallons of hand sanitizer to join the effort to flatten the curve. Four hundred gallons of hand sanitizer were donated to hospitals, first responders and healthcare facilities across eight Kentucky counties. The remaining 100 gallons were sold to local businesses in order to assist with the costs of production and to provide other essential businesses with access to sanitization products.
Now that more conventionally available hand sanitizers are on the market, they have converted their operations back to normal business. "I think we filled a short-term void in the market that was much needed," said a spokesperson from the distillery.
We're also pleased to report that the Versamatic pump has been dependable and durable enough to handle what was an atypically high concentration of alcohol for production (80% ABV). More importantly, the pump allowed the distillery to transfer and bottle hand sanitizer without contaminating other pumps and tanks dedicated to the production of Old Pogue Bourbon, which is the distillery's premium small-batch, nine-year-old Kentucky Straight Bourbon.
Reflecting back on a whirlwind couple of months, the distillery learned that "we're in this together." It was a challenge to improvise and create a hand sanitizer product as quickly as possible, and the distillery reached out to local businesses to discuss the concept. What they found was an outpouring of support, including ingredients, containers and parts needed to expedite production.
Without contributions from the local business community, The Old Pogue Distillery would not have been able to deliver the hand sanitizer product to the market as quickly as it did. The distillery is incredibly grateful to its community for the outpouring of support throughout this process.