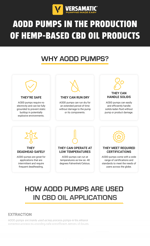 Whether it be for medicinal purposes or recreational use, our nation's view of cannabidiol (CBD) is changing. In fact, the production of hemp-based CBD oil has exploded globally over the past several years.
Some experts believe that sales for CBD oil-based products such as topical treatments, edibles and beverages could surpass $20 billion in the United States alone by 2024. In addition to the increasing demand, the methods used to process this valuable extract are expanding and improving.
Primary CBD Oil Extraction Methods

Supercritical Carbon Dioxide (CO2) Extraction
Supercritical CO2 extraction is becoming a popular method of separating various compounds from hemp plants. Compared to other methods of extraction, supercritical CO2 extraction produces the purest, cleanest and safest net results. This method is when CO2 (at high pressure and very low temperatures) is forced through cannabis biomass. The process extracts the CBD oil out of the biomass while also removing unwanted substances, like chlorophyll.
Ethanol Extraction
Ethanol, or ethyl alcohol extraction, is one of the quickest and easiest process', all while being one of the least expensive options.

Chilled ethanol (-40 degrees Fahrenheit to -80 degrees Fahrenheit) is mixed with cannabis biomass to create a reaction.
The oils, waxes and lipids are released from the hemp-based biomass and attach to the chilled ethanol molecules.
The ethanol is then distilled to remove the ethanol and leave the remaining extracted product, known by many as crude oil.
The remaining CBD crude oil is distilled and refined to separate the cannabinoids (clear valuable oil) and non-cannabinoids (dark waste residue).

Because the U.S. Food and Drug Administration (FDA) classifies ethanol as safe for human consumption, it's commonly used as a food preservative and food additive.
Hydrocarbon Extraction (Butane, Propane and Petroleum)
Hydrocarbon extraction has become a popular extraction method due to its low cost, efficiency and extraction quality. This method involves the use of certain hydrocarbons, such as butane, propane and petroleum.
Hydrocarbons are introduced to the cannabis biomass and the oils bond to the hydrocarbon molecules. The hydrocarbons are then removed, leaving the CBD crude oil to be processed as in the ethanol extraction process.
All extraction processes present unique pumping challenges, such as extreme low temperature and combustible, viscous and solids-laden fluids. With so many pumps on the market, it can be tough to find the information you need to make the right choice.
The air-operated double-diaphragm (AODD) pump, however, has proven itself as a market leader when it comes to reliability, versatility and ease of maintenance.
Why AODD Pumps for CBD Production?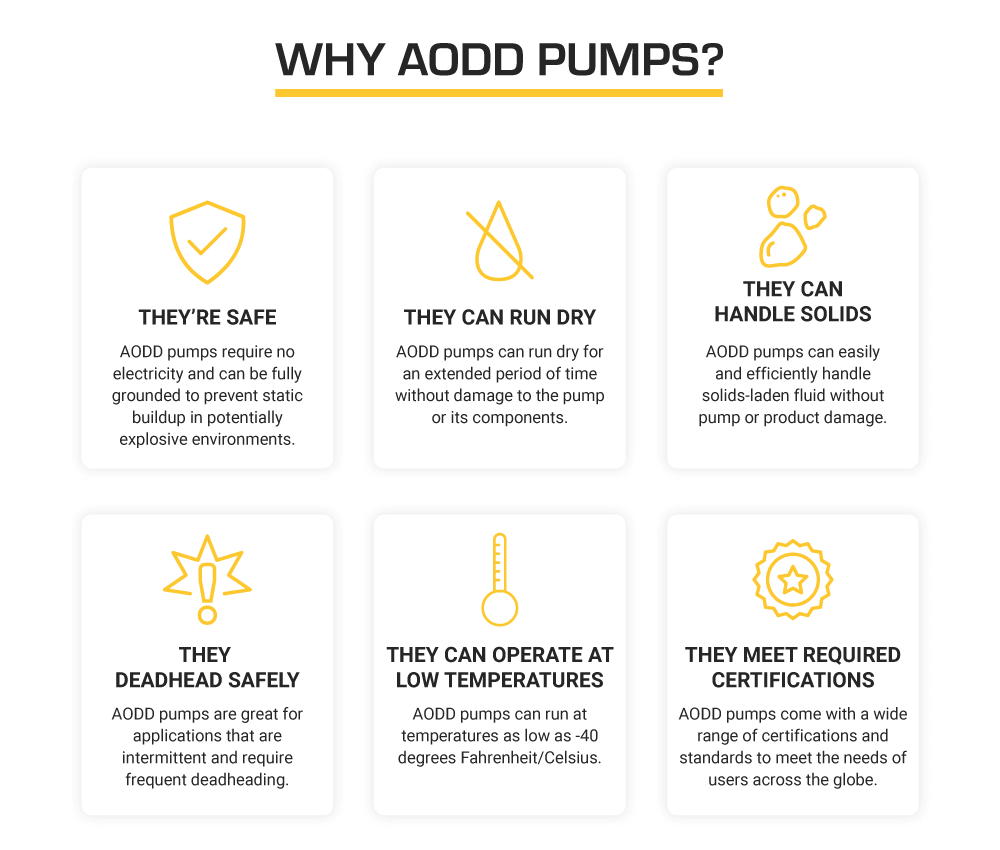 AODD pumps deliver unique benefits that are unrivaled by other pump technologies, such as centrifugal, lobe, gear, screw, hose and piston/plunger. These pumps require little maintenance and are cost-effective solutions for transferring almost any viscous fluid safely. Here are some additional benefits of AODD pumps:
They're safe: AODD pumps don't require electricity and can be grounded to prevent static buildup in potentially explosive environments when pumping flammable solvents like ethanol.


They can run dry: AODD pumps can run dry without damage. This is very beneficial when transferring products from tank to tank, such as in the CBD oil manufacturing process. You can pump a tank of ethanol and push it through the biomass, and when the tank is empty, the pump can continue to run without damage.


They can handle solids: AODD pumps are ideal for feeding solids and slurries, such as biomass, into filter presses without damage to the pumps or the product. Both ½" and 1" pumps are the most popular pumps used for CBD production.


They deadhead safely: Many other pumping technologies require special controls or circulation loops to allow for the pump to deadhead. AODD pumps are a great option for applications that are intermittent and require frequent deadheading. When the pressure on the fluid discharge equalizes, the pump will stop pumping without damage. This is common in filter press filtration applications.


They can operate at low temperatures: AODD pumps can run at temperatures as low as -40 degrees Fahrenheit/Celsius, which is crucial in the production of CBD oil.


They're easy to clean/sanitize: In a market desiring highly polished (shiny) surface finishes, AODD pumps are simple to disassemble and clean. Some can go through a clean-in-place (CIP) process in which the pumps can be flushed and sanitized without being disassembled.


They meet required certification levels: AODD pumps are available in a wide range of certification levels to meet the stringent needs of the industries they serve. Some common certifications are:



FDA: FDA-compliant pumps are made with FDA-approved materials, like FDA Hytrel, FDA Santoprene, PTFE and stainless steel. Some manufacturers also offer electropolished stainless steel components for a superior surface finish and to eliminate ferrous metals from contacting the products being pumped.


1935/2004 Food Contact Materials Standard: This certification (shown by the goblet and fork logo) means food processing and hygienic pumps are made of lab-tested and approved materials that will not affect the composition of the food products they meet, such as 316 electropolished stainless steel, virgin PTFE, Hytrel 4069 and Santoprene 273-40.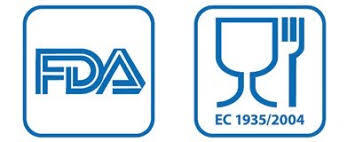 Trusted Pumping Solutions for CBD Production
Whether you're a large-scale producer, small-scale lab, equipment maker or consultant, you need a resource you can trust to provide the right pump for your CBD production application.
Since 1983, Versamatic has set the standard of performance for AODD pumps. Versamatic AODD pumps are the first choice for customers who value reliability, quick delivery and convenience. In addition to having a world-class product offering, the Versamatic brand is supported by superior customer service, application engineering and after-sales support teams that are dedicated to providing reliable, hands-on support from order entry through each product's life cycle.
When it comes to safety, Versamatic offers each of its designs in groundable ATEX-certified models for the safe transfer of flammable liquids, such as ethanol.
FDA-compliant food processing pumps are also available for the safe, clean transfer of CBD oil products and solutions. In clamped style or bolted construction, they are simple to disassemble for cleaning and repair. Electropolished components and FDA-compliant materials ensure cleanliness can be maintained. These styles of AODD pumps can be used when adding flavors and mixing CBD with other edible products.
Commonly Used Applications for Versamatic AODD Pumps in Hemp-Based CBD Production
Chilled ethanol transfer (winterization)
Biomass slurry transfer
Ethanol-rich tincture transfer
Filter press systems
Centrifuge systems
Lenticular filter systems
Ethanol recovery
Wax and lipid removal
Versamatic's AODD pump portfolio is broad and versatile, providing quick engineered solutions that work for hemp-based CBD oil extraction as well as post-recovery and filtration systems. To learn more, please reach out to one of our seasoned application engineers for guidance.
Click here to download the full AODD Pumps in the Production of Hemp-Based CBD Oil Products infographic.