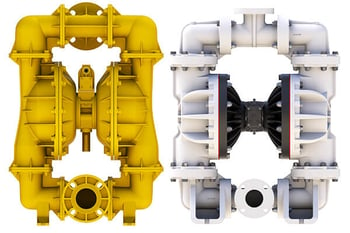 When it comes to selecting air-operated double-diaphragm (AODD) pump materials, there are some rules of thumb.
For example, metal AODD pumps are commonly used in high-pressure applications and environments that require grounding. Stainless steel, in particular, is a go-to choice for food and personal care applications due to FDA requirements. On the other hand, plastic AODD pumps are frequently used in chemical and petrochemical applications because they resist corrosion.
With consumable parts and accessories such as diaphragms, valve balls, valve seats, and valve seat o-rings, it all starts with chemical compatibility. For instance, FDA-compliant Hytrel is typically used for food processing.
It's important to remember these are not hard-and-fast rules. Selecting an AODD pump is more complex than following any one general piece of advice. The decision often requires the process of elimination starting with the material you're pumping, then accounting for your budget and other factors.
While selecting the right materials for an AODD pump is nuanced, it doesn't mean you're on your own. Versamatic application engineers and distributors are always available to help you choose the right diaphragm pump materials for your operation.
We wrote this blog post as a guide to common questions about AODD pump material selection.
Which AODD pump should I buy?
The short answer is "it depends." The Versamatic team has answered this question countless times — so much so that we've consolidated our knowledge into an invaluable online Pump Selection Tool. With basic information such as fluid type, desired flow rate, and more, this tool helps you narrow down your choice of pumps to best meet the need of your specific application.
How do I know what material I should choose for my pumping needs?
Pump users should start by knowing the following four characteristics of the fluid they're pumping: chemical compatibility, temperature, abrasiveness, and viscosity. Refer to your pump manufacturer's chemical compatibility guide as a starting point.
Certifications are another important consideration. For example, is your pump ATEX certified (this is a common requirement in mining)? Or, do you need to ensure you're using FDA-approved materials? Those questions will often drive your pump casting material and elastomer selections.
What materials do AODD pumps come in?
AODD pumps come in two main casting options: metal and plastic. Metal options include aluminum, cast iron, or stainless steel in clamped construction and aluminum or stainless steel in bolted construction. Plastic AODD pumps are constructed of polypropylene, PVDF, and conductive polypropylene.
What are the benefits of metal AODD pumps?
The benefits of metal AODD pumps include:
Durability and longevity
Ability to handle solids up to 0.50" (12.7mm)
Ability to be grounded and ATEX compliant for safety in potentially explosive environments
Cost-effectiveness (aluminum and cast iron)
Robustness is ideal for mobile pump applications like mine dewatering
Abrasion-resistance for abrasive materials like ceramics
Clamped construction option allows for quick disassembly, cleaning, and maintenance
Compatible with a wide range of temperatures
Unaffected by sunlight's UV rays
What are the benefits of plastic AODD pumps?
Plastic AODD pump benefits include:
Lightweight construction
Chemical resistance
Range and diversity of sizes and applications
Submergible and portable
Bolted construction offers leak-free operation
What materials are used for AODD pump diaphragms, balls, seals, and valves?
AODD pump diaphragms, balls, seals, and valves, also known as elastomers, come in a variety of materials. Knowing which one is right for your application is more complicated than the metal vs. plastic discussion. You must account for the price point, temperature, chemical compatibility, abrasiveness, flex life, and other factors.
Need assistance making your selection? You can read about material properties on page 10 of the Versamatic catalog or refer to the Materials Selection Guide below. Of course, you can always consult with your authorized Versamatic distributor or one of our application engineers.
Diaphragm
Material
Chemical
Resistance
Abrasion
Resistance
Temp.
Limitations
Temp. Max.
Operating
Temp. Min.
Operating
Flex Life
Purchase
Price
EPDM
B+
B+
B+
280˚F/138˚C
-40˚F/-40˚C
B
$$
FKM
A
C
A+
350˚F/177˚C

-40˚F/-40˚C

D
$$$
Hytrel®
B+
A+
B
220˚F/104˚C
-20˚F/-29˚C
A
$$
Neoprene
D
B
C
200˚F/93˚C
-10˚F/-23˚C
A
$
Nitrile
C+
B
C
190˚F/88˚C
-10˚F/-23˚C
A-
$
PTFE
A+
F
A+
220˚F/104˚C
-35˚F/-37˚C
C-
$$$
Santoprene®
A
A+
A+
275˚F/135˚C
-40˚F/-40˚C
A+
$
A+ = Best; F = Not recommended
$ = Least expensive; $$$ = Most expensive
Santoprene® is a registered trade name of Exxon Mobil Corp. Hytrel® is a registered trade name of E.I. DuPont.
Are metal or plastic AODD pumps more cost-effective?
Generally speaking, small plastic pumps are more affordable than small metal pumps, while large metal pumps are more affordable than larger plastic pumps.
Do metal or plastic pumps last longer?
Assuming your fluid and your pump material are chemically compatible, metal pumps will generally last longer than plastic pumps. Plastic is flexible so over time plastic pumps may get weaker, whereas metal is more rigid and retains its strength.
What pump materials are best for high-pressure applications?
Metal is the best choice for high-pressure pumping applications due to its rigidity. Plastic pumps are generally rated to 100 PSI inlet or discharge pressure; metal pumps are generally rated to 125 PSI or higher.
What pump materials are best for high-volume pumping?
Volume is more about your pump size rather than the material you choose, assuming your pressure is equal and within safety ratings. A 3" plastic pump can pump the same volume as a 3" metal pump.
What's the best AODD pump material for mine dewatering?
Affordable, lightweight aluminum is the most common selection for mine dewatering.
What's the best AODD pump material for water-based paints and coatings?
Pump users in this category typically choose aluminum AODD pumps.
What's the best AODD pump material for abrasives and ceramics like toilets and china?
Aluminum is the most common material chosen by pump users in the ceramics market because it handles abrasive substances well.
What's the best AODD pump material for pumping lubricants for oil and gas?
The most common material choice for the lubricants market is aluminum.
What's the best AODD pump material for marine applications?
Aluminum AODD pumps are popular for marine applications, such as pumping water on a vessel before it goes back into the ocean.
What AODD pump material is best for food processing?
The food processing industry has strict material contact standards, such as
EU Regulation 1935/2004. To comply, food processing pumps are typically constructed of stainless steel and use Hytrel or Teflon (PTFE) for elastomers.
What AODD pump material is best for mining?
In mining, pump mobility and weight are often key factors in pump selection. For that reason, polypropylene or aluminum pumps are both good options.
What AODD pump material is best for CBD?
Standard metal ball valve pumps are frequently used in CBD production; polished FDA-compliant units are also available.
Do you have a pump material question we didn't address above? Don't hesitate to get in touch. The team at Versamatic is always happy to help you troubleshoot any AODD pump issue you run into and find the right pump materials for your operation.