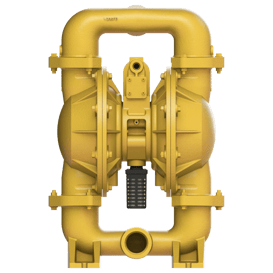 Pumps play a vital part in the success of a wide variety of markets. From wastewater treatment to pharmaceutical production to carpet and chemical manufacturing, pumps keep many industries running at top speed.
Why are air-operated double-diaphragm (AODD) pumps used so prominently in so many different types of industries? Because they offer advantages other types of pumps can't. Keep reading to discover the 16 benefits of using AODD pumps.
Benefit #1: AODD pumps are run-dry capable
AODD pumps are able to run dry for an extended time without damage to the pump or its components. It is very common for pumps to run dry, especially in sump dewatering, tanker unloading or tank over applications.
Other types of positive displacement pumps may be damaged by running dry and, ultimately, their service life will be shortened.
Benefit #2: AODD pumps offer efficient solids handling
Many AODD pumps can easily and efficiently handle solids-laden fluid without pump or product damage. Ball-valve units can handle solids up to nearly 0.75" (19 mm) in diameter and flap-valve units can pass nearly line-sized semisolids.
Benefit #3: AODD pumps deadhead safely
Deadheading occurs when the fluid pressure is equal to the air inlet pressure powering the pump. When a valve on the fluid side of the pump is closed, the pump will build pressure until it is equal and stops pumping. When the valve is opened on the discharge fluid side of the pump, it will start pumping again.
Many other pumping technologies require special controls or circulation loops to allow for the pump to deadhead. AODD pumps are a great option for applications that are intermittent and require frequent deadheading.
Benefit #4: AODD pumps will not shear end product
AODD pumps are gentle on the product being pumped and will not froth or separate it. This is critical when pumping many products that can be altered or ruined if sheared. For example, many types of paints and coatings require a shear-sensitive pump, so the products are not altered during transfer. Other pumping technologies, like centrifugal and gear pumps, can shear products.
Benefit #5: AODD pumps require no electricity
AODD pumps require no electricity (rather, they require compressed air to operate) and can be grounded for safe, reliable operation in explosive environments. This is critical when pumping flammable liquids or when a pump is in an environment where fumes are present.
Certified models (like ATEX or UL Listed) can be confirmed safe when properly grounded. Because no electricity is required, additional certifications, costly permits and explosion-proof motors are not needed, making pump set up simple and cost-effective.
Tip: Because AODD pumps don't require electricity, they are portable (see Benefit #15).
Benefit #6: AODD pumps have a low initial purchase price
In most cases, AODD pumps cost significantly less than other positive displacement pump styles (like lobe, gear or progressive cavity). They also do not require expensive motors, controls or the need for expert installation.
When you consider that the reliability and versatility of AODD pumps make them a trusted workhorse of industry, they are a bargain compared to other technologies.
Benefit #7: AODD pumps are self-priming
Unlike some other pumping technologies, AODD pumps are self-priming and do not require positive inlet pressure (NPSHA) to prime.
They can pull a suction lift of up to 32 feet (9.8 meters) or be placed on the floor next to a tank and operate well with no inlet pressure or positive inlet pressure up to 10 feet (3 meters). If the inlet pressure is over 10 feet, consult the factory for guidance.
Benefit #8: AODD pumps can be submersible
If you work in the mining, wastewater, oil/gas or marine industries, you know the value of pumps and that it would be impossible to do your job without them.
AODD pumps can be submerged completely and safely with no performance issues if:
The pump's materials are compatible with the surrounding fluid The air exhaust port is above the liquid level so fluid does not enter the pump via the air exhaust
Tip: Because AODD pumps can pull suction lift, many users choose to place the pumps above the liquid.
Benefit #9: AODD pumps have a sealless design
AODD pumps do not use or require expensive mechanical seals to operate. Instead, reciprocating elastomeric diaphragms and valve checks pull product into the pump then push it out, causing a pumping motion.
This concept is extremely forgiving and very cost-effective.
Benefit #10: AODD pumps have variable flow and head pressures without sophisticated controls
With flow rates of up to 280 gpm (1,060 lpm), AODD pumps provide a wide range of flows without costly, sophisticated controls. Standard 1:1 ratio AODD pumps can produce pressures up to 125 psi (8.6 bar).
Other ratios, such as 2:1 high-pressure units that can produce pressures up to 240 psi (16.5 bar), are available. High-pressure units are usually used in applications requiring greater force, such as injecting into a pressurized line.
Benefit #11: AODD pumps have excellent chemical and temperature resistance
AODD pumps can be manufactured out of a wide range of materials so they can handle just about any fluid. Many pumps are offered with wetted component materials made from stainless steel, Alloy C, cast iron, aluminum, polypropylene, PVDF and acetal. They can be fitted with FKM, PTFE, EPDM, Santoprene and nitrile materials so you can select a unit that meets your chemical needs.
From a temperature standpoint, AODD pumps can easily handle heat up to 220 degrees Fahrenheit (104 degrees Celsius) and possibly beyond. They can also handle cold temperatures. When going over 220 degrees Fahrenheit (104 degrees Celsius) or below the freezing point, consult the factory for guidance.
Tip: Reputable manufacturers will offer a chemical resistance guide to make sure you get the right pump for your needs.
Benefit #12: AODD pumps can handle a wide viscosity range
AODD pumps can handle just about any fluid that can flow up to 90,000 cSt (415,500 SSU) and can be specifically fitted to achieve even more.
Using weighted valve balls and oversizing the pump will help when pumping very viscous products. Gravity-feeding the product into the pump is also ideal.
Benefit #13: AODD pumps are easy to clean/sanitize
AODD pumps are simple to disassemble and clean. Some can go through a clean-in-place (CIP) process where the pumps can be flushed and sanitized without being disassembled.
Benefit #14: AODD pumps meet required certification standards
AODD pumps can come with a wide range of certifications and standards to meet the needs of users across the globe. Some common certifications are:
3-A
EHEDG
CE
UL Listed
ATEX
FDA Compliant
1935/2004 Food Contact Materials Standard
EAC
ABS Marine
ISO 9001
ISO 14001
Benefit #15: AODD pumps are portable
Depending on the pump size and material, they can be lightweight and moved easily. Some plant managers cart-mount pumps for easy mobility and application versatility.
Benefit #16: AODD pumps are easy to install
AODD pumps do not need to be laser-aligned and do not require complex controls to operate effectively—they simply need air supply to power the pump.The pump can be controlled with a valve on the fluid discharge or by controlling the air coming into the pump. Accessories, such as filter/regulator units, are reasonably priced and easy to add to the pump.
Versatile Pump Serves Many Industries
AODD pumps can be found handling many applications across a broad range of industries:
Carwash

Tire/wheel cleaner
Wax
Drying agent
Soap

Wastewater/filter press feed

Neutralize wastewater
Feed the filter press 1:1 ration to fill the press (2:1 high pressure in some cases to finish the cycle)

Paints and coatings

Latex transfer
Paint transfer to filling line

Dairy

Iodine (teat disinfectant)
Disinfectant foam
Chemical injection (sanitize piping)

Printing
Lubrication (quick lube)

Oil dispensing/evacuation
Anti-freeze
Windshield solvent dispensing and mixing

Wood finishing

Lacquer spraying
Thinners and solvents

Mine dewatering

Evacuate water in a mine to a central sump

Metal machining
Carpet manufacturing

Latex transfer and circulation

Metal finishing

Chemical transfer and circulation

Chemical manufacturing

Chemical transfer
Chemical sumps

Ceramic (tile, sinks, toilets)

Filling molds
Delivering ceramic slip to lines
Glaze transfer and spraying

Food and beverage

Food packaging (mustard, ketchup, relish)
Citrus (juice, citrus oils)
Dressings
Wine tank over
Salsa
Chili
Soy sauce
Beer/wine
Juice concentrate
Flavors
Corn oil/syrups
Salad dressing
Condiments

Personal care

Body lotions
Soap Shampoo
Hair products
Laundry detergent
Fragrances
Many Benefits, Obvious Choice
AODD pumps have been a mainstay in a range of industries for many reasons. They are efficient, reliable, safe, cost-effective, easy to maintain and can handle everything from water to solids-laden slurries. In short, they get the job done.
Since 1983, Versamatic has provided high-quality AODD pumps to markets across the globe. With Versamatic, you get:
The exclusive Elima-Matic® air distribution system, which virtually eliminates pumping problems and ensures your operations run smoothly
Ease of maintenance, as Versamatic pumps have been specifically designed to make maintenance simple and cost-effective
Maximized pumping performance, as Versamatic pumps can handle anything from water to very viscous solids-laden slurries easily and effectively
An industry-leading distribution network that provides you with expert solutions, convenience, local inventory and support
Versamatic also offers reliable parts and accessories that enhance pump performance. Count on the dependable, trouble-free operation of Versamatic pumps for all of your applications.