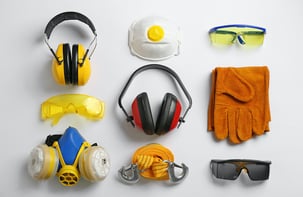 The safety of a company's employees and customers is the foundation of any successful business. In fact, many companies emphasize the importance of workplace safety in employee performance goals each year.
If you're a maintenance or facilities manager, you're likely responsible for making sure that safety and efficiency are at the forefront of everything you do. If air-operated double-diaphragm (AODD) pumps are used in your facility, they may be helpful in contributing to workplace safety.
Here's how.
How AODD Pumps Contribute to Workplace Safety
Many facilities managers choose pumps for performance reasons. However, AODD pumps combine superior performance with reliable safety features.
They support safety initiatives in the following ways:
AODD pumps can run dry: It's very common for pumps to run dry, especially in sump dewatering, tanker unloading or tank over applications. Unlike other types of pumping technology, AODD pumps are designed to run dry safely for extended periods of time without generating heat that can create a dangerous situation, like explosions or fires, and the need for costly repairs and downtime.
Tip: By choosing an AODD pump for applications that may cause pumps to run dry, you're adding an additional layer of protection and safety to your process.
AODD pumps can deadhead safely: Deadheading occurs when the fluid pressure is equal to the air inlet pressure powering the pump. When a valve on the fluid side of the pump is closed, the pump will build pressure until it's equal and stop pumping. When the valve is opened on the discharge fluid side of the pump, it will start pumping again.
Tip: AODD pumps won't create pressure greater than the air inlet pressure. This eliminates the concern that the pump can generate too much pressure and cause an unsafe situation.
AODD pumps don't require electricity: AODD pumps require no electricity (instead, they require compressed air to operate) and can be grounded for safe, reliable operation in explosive environments. This is critical when pumping flammable liquids or when a pump is in an environment where fumes are present.
Tip: Certified models (like those that conform to ATEX or are UL Listed) can be confirmed safe when properly grounded. Because no electricity is required, additional certifications, costly permits and explosion-proof motors aren't needed, making pump setup simple, cost-effective and, most importantly, safe.
AODD Pumps are leak-resistant: AODD pumps are practically leak-free by design. They don't require mechanical seals, which are prone to leaking when worn. If a diaphragm failure occurs, the pump could leak from the air exhaust port. If this is a concern, simply pipe the exhaust to a safe location, like a catch basin or sump.
Tip: Some AODD pump manufacturers offer specialty units that incorporate spill containment chambers to capture pump fluid if a diaphragm rupture occurs.
AODD pumps have no external moving or rotating components: It's safe to work closely around AODD pumps because they don't have any external moving or rotating components. There's no need for motor or shaft guides. You also don't need to worry about leaking mechanical seals, as AODD pumps offer a seal-less design.
AODD pumps are lightweight and portable: AODD pumps are a great choice when mobility and versatility are critical. Lightweight models can easily be carried around a plant or job site. Heavier models (those weighing 50 lbs. or more, according to OSHA and other global governing requirements) can be easily mounted to a cart or dolly to be moved around the site safely. Lightweight models may also be a good choice depending on required flow rates. For example, when fitted properly, a 1" polypropylene pump can handle most chemicals and is only about 21 lbs. (9.8 kg). A 1" pump like this can deliver flow of 45 gpm (170 lpm) or more.
AODD pumps are certified for safety: AODD pumps have been designed and tested to be compliant with a wide range of certifications and standards, including:

3-A
EHEDG
CE
UL Listed
ATEX
FDA Compliant
1935/2004 Food Contact Materials Standard
EAC
ABS Marine
ISO 9001
ISO 14001
Tip: Consult the pump manufacturer for product and certification information.
AODD Pumps: A Safe Choice
In addition to a range of benefits that keep both your production capacity and bottom line healthy, AODD pumps are the safe choice for pumping everything from water to highly viscous, solids-laden fluids.
Since 1983, Versamatic has provided high-quality AODD pumps to markets across the globe.
With Versamatic, you get:
Pumps that meet the stringent standards set by the International Organization for Standardization (ISO), CE marking for the European Economic Area, ATEX compliance and more.
AODD pump parts and accessories that meet Versamatic's strict manufacturing standards and guidelines. Some accessories, such as surge suppressors and liquid level controllers, add another layer of safety to your facility.
An industry-leading support team that provides guidance on proper pump selection, installation and operation, and offers troubleshooting tips and maintenance instruction to ensure the safest and most reliable product solution.
When it comes to safety and reliability, Versamatic AODD pumps are the right pump for the job. If you have questions about any of our pumping solutions, feel free to contact us or find a local distributor.