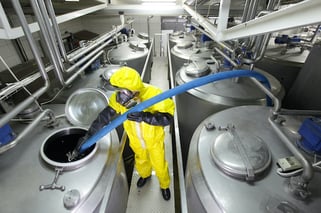 Chemical transfer can refer to a lot of things. That's because when you talk about "chemicals," you can be referring to everything from household staples, like hydrogen peroxide and calcium chloride, to toxic substances, like arsenic and formaldehyde.
That's why air-operated double-diaphragm (AODD) pumps used in chemical transfer applications must be able to handle both safe chemicals and those considered hazardous.
Known for their versatility and ability to withstand the harshest environments and applications, AODD pumps are considered by many to be the best choice for chemical transfer applications.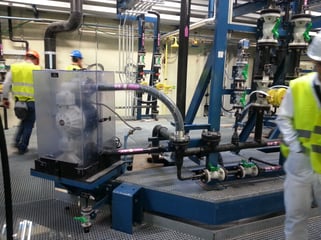 Why AODD Pumps Are Ideal for Chemical Transfer
1. Safe, Leak-Free Bolted Construction
AODD pumps are available in leak-free bolted designs to ensure the chemical being pumped is contained safely. Also, for an additional level of safety, the air exhaust can be piped to a containment location away from workers.
2. Safe Deadheading
AODD pumps can be deadheaded with no pump or product damage. They're a great option for applications that are intermittent and require deadheading and/or on-demand use.
3. Do NoT Generate Heat
Compared to other types of positive displacement (PD) pumps, AODD pumps don't generate heat, which further reduces the potential of a safety hazard occurring.
4. No Electricity Required
AODD pumps require no electricity and can be grounded for safe, reliable operation in explosive environments. This is critical for safety when pumping flammable liquids or when a pump is in an environment in which fumes are present. Not needing electricity also eliminates issues with additional certifications and meeting requirements for costly permits and explosion-proof motors.
Tip: Certified models (ATEX or UL Listed units, for example) can be confirmed safe when properly grounded.
5. Run-Dry Capability
AODD pumps will not be damaged by running dry, which is very common in chemical sumps, tanker unloading or tank over applications. Other types of PD pumps can be damaged from running dry, or they could overheat, causing an unsafe running condition.
6. Superior Chemical Resistance
AODD pumps can be manufactured from a broad range of chemically resistant materials, so they can handle just about any chemical. With wetted casting materials, such as stainless steel and alloy C for metal pumps, and polypropylene or PVDF for plastic units, it's simple to find a compatible material.
Tip: For the perfect combination of chemical resistance and longevity, pumps can be fitted with FKM, PTFE, EPDM, Santoprene or other seals and elastomers.
7. Operate Within a Wide Temperature Range
AODD pumps can handle a wide range of temperatures: cold fluids (consult the factory when pumping fluids that are below freezing) and fluids up to 220° F (104° C) and possibly beyond (when exceeding 220° F [104° C], consult the factory for guidance).
Tip: Chemical and temperature ratings can be found in various chemical resistance guides offered by AODD pump manufacturers. Confirm the materials of the pump, seals and diaphragms.
8. Handle Solids
AODD pumps can handle solids and slurries. In many cases, standard ball valve units can handle solids up to ¾" (19 mm). This is especially critical in chemical sumps, which can receive all types of solids (for example, trash or earplugs) that can shut down or damage other pumping technologies.
9. Shear-Sensitive/Won't Damage Product
Because AODD pumps don't have close-fitting rotating components, they're extremely shear sensitive to the products being pumped. This is critical for many chemicals that can be damaged if separated or sheared.
Tip: AODD pumps are shear sensitive in general, and even more so when oversized and run slowly to keep the internal velocity of the fluid flow low as it travels through the pump.
10. Self-Priming
AODD pumps are self-priming and don't require positive inlet pressure (NPSHA) to prime. They can pull a suction lift of up to 32' (9.8 m) or be placed on the floor next to a tank and operate well with no inlet pressure or positive inlet pressure up to 10' (3.0 m). If the inlet pressure is over 10', consult the factory for guidance.
11. Sealless Design
AODD pumps don't use or require expensive mechanical seals to operate. They simply use reciprocating elastomeric diaphragms and valve checks to pull product into the pump and then push it out, causing a pumping motion. This design is cost-effective and very forgiving.
12. Portability
AODD pumps can be easily moved and require only a source of compressed air to operate. Some users choose to cart-mount pumps, allowing for even easier mobility and application versatility. A single AODD pump can be easily used for different jobs around the plant. AODD pumps do not have to be permanently affixed to a single location and do not require an electric power source. With suction/discharge hoses and an air line, you can simply place the pump on the floor and get to work. Some plants even use AODD pumps in a pinch to temporarily replace other pumping technologies while they are being repaired, as they can take much longer than AODD units to repair when taken out of service.
Tip: When moving a pump to perform a new task, be sure to flush the pump before starting at the next location if you are pumping different chemicals. Please also make sure the pump is designed for all the different chemicals being pumped. Standardizing on one set of materials for all chemicals in the plant is a popular way to avoid compatibility concerns.
13. Variable Pressures and Flow Rates
With flow rates up to 280 gpm (1,060 lpm), AODD pumps provide a wide range of flows without costly, sophisticated controls. Standard AODD pumps are 1:1 ratio and can produce pressures up to 125 psi (8.6 bar). High-pressure units with a 2:1 ratio can produce pressures up to 240 psi (16.5 bar).
Tip: High-pressure units are usually used on applications requiring greater pressure, such as injecting into a pressurized line or filter press feed to ensure a dry cake of contaminants, saving weight and disposal costs. Another high-pressure pump application is pumping against long piping runs with high head pressures.
14. Handle a Wide Viscosity Range
AODD pumps can handle just about any fluid that can flow. Standard pumps handle a great range of viscosity levels and pumps can also be specifically fitted to achieve even more.
Tip: Using weighted valve balls and oversizing the pump will help when pumping very viscous products. Gravity-feeding the product into the pump is also ideal with thicker products.
15. Simple Installation
AODD pumps don't need to be laser-aligned and don't require complex controls to operate effectively. They simply need an ample air supply to power the pump. The pump can be controlled with a valve on the fluid discharge or by controlling the air coming into the pump. AODD pumps also do not require an electric power source. They can be installed into a complex system or can simply be set up in a temporary capacity with hoses and quick disconnect fittings for mobility and quick changeout. They are truly one of the most simple and versatile pumps options on the market today.
Tip: Accessories, such as air filter/regulator units, are available to improve pump operation. These are very reasonably priced and simple to add. Please also remember to use an air line that can deliver the proper air volume (SCFM) to the pump. If the air line diameter is too small, it will reduce the pumps performance and capability. When in doubt, review the operation manual or consult the factory for details.
16. Low Initial Purchase Price
In most cases, AODD pumps cost significantly less than other positive displacement pump styles, like lobe, gear or progressive cavity. They also do not require expensive motors, controls or the need for expert installation.
Consider Pump Materials
When it comes to pumping chemicals, pump materials matter.
Materials widely used in pumps for chemical transfer include polypropylene (fitted with PTFE or Santoprene diaphragms. Santoprene is very popular because of its excellent chemical resistance, flex life, abrasion resistance and low cost.
Stainless steel units are a great choice because they work well in outside conditions and can handle direct sunlight better than plastic pumps (plastic can be affected by UV radiation). Stainless steel also deals with extreme cold and hot temperatures better than plastic units.
Versamatic AODD Pumps: The Right Choice for Chemical Transfer
AODD pumps are one of the safest and most effective options on the market today, making them the optimal choice for handling many chemicals.
With over 50 years of experience and teams of experts to serve you from pump selection to support after the sale, Versamatic has the AODD pumps and accessories that are the first choice for customers around the world who value reliability, quick delivery and convenience.
Find a distributor near you to discuss your chemical transfer application needs.