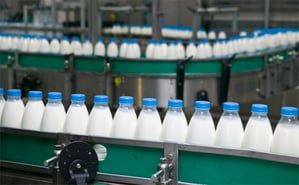 Specifying an air-operated double-diaphragm (AODD) pump for sanitary applications in the food processing, beverage, and pharmaceutical industries isn't a job to take lightly. After all, consumers' health and safety are on the line.
First, you'll want to account for typical pump-selection factors: fluid type, fluid viscosity, flow rate, pressure, and temperature. Then, you need to take it a few steps further and consider certifications, material selection, and how you'll clean the pump.
Designations & Certifications for Sanitary AODD Pump Applications: FDA and ATEX
First, let's define sanitary, also known as hygienic, pumps. There are two levels of pumps in this space:
Pumps that are U.S. Food & Drug Administration (FDA) compliant, and
True hygienic/sanitary pumps that are certified to meet the Sanitary Standards.
What is an FDA-compliant pump?
"FDA compliant" means the materials used are approved for "repeated use" with "food for human consumption." In other words, the pump will not make foods and beverages unsafe for consumption through contamination or discoloration.
Note, "FDA compliant" is not a certification. The FDA does not certify pumping equipment. It's the manufacturer's responsibility to ensure that food contact materials comply with all specifications and limitations. For AODD pumps, that means wetted parts like outer chambers, manifolds, diaphragms, check valves, and seats all need to be compliant.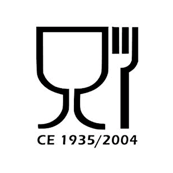 Many manufacturers, including Versamatic, rely on a third-party certification called EC 1935/2004 for Food Contact Materials, which allows them to put the "fork and goblet" symbol on their products. This symbol means a third party has lab tested them and verified that they will not contaminate or affect the composition of the food or beverages they come into contact with.
What is a Sanitary pump?
True sanitary or hygienic pumps are a step above FDA-compliant pumps. While FDA-compliant pumps are often used for food and beverage processing, true sanitary pumps are typically used in cosmetics, personal care, and pharmaceutical applications. They are also commonly used in the dairy industry.
This is why true sanitary pumps are commonly certificated to a high-level specification such as 3A or EHEDG.
Even though FDA-compliant and sanitary pumps look similar, there are technical differences. Namely, in their design features such as surface finish and drainability.
Remember, a true sanitary pump qualifies as FDA-compliant, but an FDA-compliant pump is not considered sanitary.
What is ATEX compliance?
Another consideration for sanitary or hygienic pumps, which applies to many other AODD pump categories as well, is ATEX compliance. ATEX is the minimum safety requirement for workplaces and equipment used in explosive atmospheres in the European Union. In short, it means you can ground the pump, which is important when combustible fluids like alcohol are at play.
Material Selection for Sanitary AODD Pump Applications
When it comes to pump construction for sanitary applications, polished 316 stainless steel is the most common material, although some types of polypropylene are approved as well.
When choosing soft goods, there are FDA-compliant versions of common elastomers like PTFE, Nitrile (Buna-N), Santoprene, Hytrel, or EPDM. Which ones you choose will be based on the chemical makeup, abrasiveness, temperature, and other characteristics of the fluids you're pumping.
Remember to consult the manufacturer's Chemical Compatibility Guide when making material selections. Additionally, always refer to the FDA's Code of Federal Regulations Title 21 (CFR 21), which is the agency's list of specifications for materials that come into contact with food.
Cleaning Sanitary AODD Pumps
The final major consideration when choosing an FDA-compliant or sanitary pump is the cleaning process. In the production of food or pharmaceuticals, for example, products are made in batches and operators must tear down and sanitize equipment in between, a process called clean out of place (COP). To reduce downtime during the COP process, it's important to use equipment that can be disassembled, cleaned, and rebuilt quickly. That's why AODD pumps are ideal here, and that's why many Versamatic FDA-compliant and hygienic models are portable and are constructed with thumb wheels, which allow for rapid teardown and reassembly between batches.
For clean in place (CIP) systems be sure to check with the manufacturer for instructions on how to do so properly and safely as some some CIP systems can exceed the maximum working pressure.
Daily sanitation is another part of the cleaning process to think about. Because of the need to clean the external parts of the system, material choices on the non-wetted side of the AODD pump matter as well. Ensure your pump is compatible with the wash-down treatments and sanitation methods you're using.
In addition to a wide selection of FDA compliant and sanitary AODD pumps to meet the needs of operators in the food, beverage, and pharmaceutical industries, Versamatic's efficient operations and supply chain investments mean we can typically deliver the FDA pumps you need within five days.
If you need assistance specifying the correct AODD pumps for sanitary applications, Versamatic is here to help. Reach out to a Versamatic application specialist or your local distributor today.
Find these tips useful? Share which tip helped you the most in the comments below.