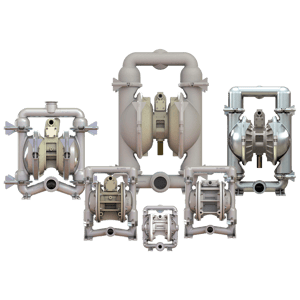 When selecting an air-operated double-diaphragm (AODD) pump for your application, you might ask yourself, "Would a standard AODD pump work well for my application, or do I need a specialty unit?" Unique aspects of your application may require specialty diaphragm pumps, such as FDA-compliant pumps, 3-A certified pumps, high-pressure or centrifugal pumps.
But first, you need to understand what a standard AODD pump is capable of, and then we can determine if additional capabilities, certifications or unique model constructions/ configurations are required for a pump to meet or exceed the requirements.
Standard AODD pumps are viewed as one of the most flexible types of positive displacement (PD) pumps. They can be easily set up and require very little sophistication to specify, operate and maintain. Additionally, they can handle most liquids and deliver a wide range of flows and pressures.
Specialty Application PumpS
High-Pressure Pumps
From a pressure standpoint, most standard AODD pumps are 1:1 ratio, so if the maximum air inlet pressure is 100 psi (7 bar), the fluid discharge pressure would also be 100 psi (7 bar). Most standard metal AODD pumps have a maximum air inlet pressure of 125 psi (8.6 bar). If greater discharge pressure is required for the application, consider a high-pressure AODD pump, which in most cases, is a 2:1 ratio. High-pressure pumps can tackle any application, including filter press feeds, mine dewatering and slurry transfer.
Submersible Centrifugal Pumps
Submersible Dewatering Pumps (Pneumatic Centrifugal Trash Pump)
Pneumatic centrifugal trash-style pumps are excellent choices when a pump needs to deliver high flow rates but handle large solids. Pneumatic centrifugal trash-style pumps are popular for mine dewatering and sump and pit evacuation. They handle large solids and can deliver flow rates of up to 300 gpm (1,136 lpm). They can be controlled with a pneumatic liquid level control for ease of operation or can be portable for spot dewatering as needed.
Submersible Dewatering Pumps (12-Volt Utility Pumps)
If compressed air or a main electrical source is not available, a portable centrifugal pump that runs off of a 12-volt vehicle battery is a suitable option for localized dewatering. These lightweight yet effective units are great for pumping water out of manholes, ditches or construction sites. Simply hook them up to a 12-volt vehicle battery and achieve flow rates of up to 43 gpm (163 lpm).
Hygienic (Food Processing/3-A Sanitary) Pumps
FDA and 3-A hygienic sanitary pumps are the right choices when pumping food and personal care products. These pumps are manufactured from FDA-compliant materials such as FDA Hytrel, FDA Santoprene, PTFE and polished stainless steel and are specifically designed for easy cleaning and sanitization. The 3-A units are third-party certified for clean-in-place (CIP) applications and are designed to 3-A standards to ensure customer peace of mind when handling critical products.
Capabilities of a Standard AODD Pump
All standard AODD pumps:
Are run-dry capable: AODD pumps will not be damaged if they run dry intermittently. Pumps running dry are very common, especially in sump dewatering, tanker unloading or tank over applications.
Can handle solids: They can pass solids without damage to the pump. Ball valve units can handle solids up to nearly 0.75" (19 mm) in diameter, and flap valve units can pass nearly line-sized semi-solids.
Are self-priming: Unlike some other pumping technologies, AODD pumps are self-priming and do not require positive inlet pressure (NPSHA) to prime. They can pull a suction lift of up to 32 feet (9.8 meters) or be placed on the floor next to a tank and operate well with no inlet pressure or positive inlet pressure up to 10 feet (3.0 meters).

Deadhead safely: AODD pumps can be deadheaded with no pump or product damage.
Are shear-sensitive: The pumping action is gentle on the product being pumped. This is critical when pumping many products that can be altered or ruined if sheared by the pumping process.
Have excellent chemical and temperature resistance: AODD pumps can be manufactured out of a wide range of materials so that they can handle a broad array of fluids and temperature ranges.
Require no electricity: AODD pumps require no electricity and can be grounded for safe, reliable operation in explosive environments. This is critical for safety when pumping flammable liquids or when a pump is in an environment where fumes are present.
Have a low initial purchase price: In most cases, AODD pumps cost significantly less than other positive displacement pumps, such as lobe, gear or progressive cavity.
Are submersible: They can be submerged completely and safely with no performance issues.
Have a sealless design: AODD pumps do not use or require expressive mechanical seals to operate.
Can handle a wide range of viscosities, pressures and flow rates: With flow rates of up to 280 gpm (1,060 lpm), AODD pumps provide a wide range of flows. They can handle pressures up to 125 psi (8.6 bar) and just about any fluid that can flow up to 90,000 cSt (415,500 SSU).
Are portable: They can be easily moved and only require compressed air to operate.
Are easy to install: AODD pumps do not need to be laser aligned and do not require complex controls to operate effectively. They simply need an air supply.

Meet required certification standards: AODD pumps are available in a wide range of certification levels (i.e., 3-A, FDA, 1935/2004 Food Contact Materials Standard) to meet the stringent needs of the industries they serve.


Special Construction/Customer-Specific Products
Some AODD pump manufacturers offer the ability to customize pump models and designs to meet your specific application needs. Some examples include:
Unique material combination to enable pumps to handle abrasive or viscous product more effectively (i.e., hardened valves seats or stainless steel valve balls)
Fluid connection alternatives; Some pumps may come standard with female threaded connections, but alternative flanges can be added on request
Certified witness testing and material certifications
Specialty coatings
Various other pump options and modifications to meet your unique needs
Standard AODD pumps can handle a wide range of applications effectively, but for unique and more challenging applications, specialty or custom AODD pump designs offer endless possibilities and are an excellent choice to get the job done.
Learn more about finding the right AODD pump for your application by checking out the pump selection tool or by contacting a distributor today.