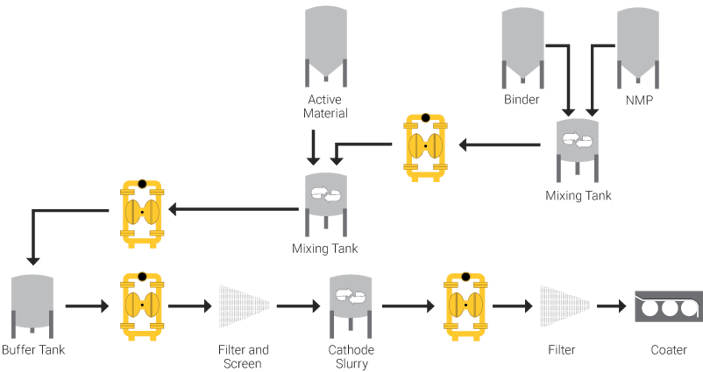 Lithium battery cell manufacturing is a fast-growing, global market where operators often need to scale up quickly. Simply scan the news and you'll see manufacturers across many industries vowing to build battery plants to meet the demand for lithium-ion batteries, which are used in electric vehicles, hand tools, medical devices, cell phones, laptops, and many other products.
These operations require moving and mixing harsh chemicals, like adhesives and solvents, and transferring slurries, solids, and viscous fluids in multiple steps throughout the manufacturing process. Because air-operated double-diaphragm (AODD) pumps are often the preferred choice for transferring hazardous substances, abrasive fluids, and high-viscosity mixtures, they're perfect for lithium battery manufacturing applications.
AODD pumps are also a good fit for lithium battery cell manufacturing because of their safety benefits. For example, NMP, a solvent that's used in the battery cell manufacturing process, is flammable, creating potentially dangerous conditions for workers in these facilities. Luckily, AODD pumps are operated from compressed air, a safer power source than electricity because it reduces the risk of ignition or an explosion.
Additionally, because AODD pumps are capable of handling multiple steps within the process, you can use the same pump throughout the entire plant, which in some cases may require hundreds of pumps. Relying on one standard pump model streamlines the operation. It makes life much easier for the people tasked with ordering and inventorying pumps and parts, installing them, maintaining, and troubleshooting them.
AODD pumps are also commonly used in lithium battery mining and lithium battery recycling applications. Like their counterparts in those markets, lithium battery cell makers have learned that working with the right AODD pump brand can make the pumping part of the manufacturing process easy.
Versamatic, in particular, is an ideal partner for lithium battery cell manufacturing applications because of the company's experience in the marketplace, its focus on actively inventorying the applicable pump models, and its global distribution network. All of these things help get pumps in the hands of Versamatic customers quickly.


Where AODD pumps are used in the lithium battery cell production process
AODD pumps are a critical component in several steps of the cathode/anode process in a battery cell manufacturing facility.
First, a binder and a solvent called NMP are mixed together in a tank. Then an AODD pump transfers that mixture to another tank, where the mixture is combined with the active cathode or anode material. Next, AODD pumps move the substance through several more phases of the process, including buffering, filtering, and mixing with a cathode slurry, until the material reaches the final step — a coater. The coater lays out the material on a film and then rolls it up to make cylindrical battery cells.

Which AODD pumps can be used in lithium battery cell manufacturing?
Although hose pumps, also known as peristaltic pumps, are sometimes used in lithium battery cell manufacturing, AODD pumps are often the better choice. Why? AODD pumps are much less messy — and as a result, safer and more convenient — in the event of a pump failure.
The Versamatic AODD pumps that can be used in lithium battery cell manufacturing include 3-inch stainless steel pumps and specialty high-pressure pumps.
Standard, stainless steel 3-inch pumps, Versamatic's largest pump size, are ideal for this application. Smaller standard pumps aren't a good fit for battery cell manufacturing because of the thick, viscous nature of the materials being pumped. Larger, 3-inch pumps are a better fit for moving these fluids.
Likewise, high-pressure pumps work well here because some lithium battery cell manufacturers' pumps can't handle the pressure required to move the product through the process from start to finish. Versamatic's high-pressure pumps, which use two air chambers to create additional pressure, are built for difficult applications like this.
As always, if you need help identifying what type of pump will work best for your circumstances, you can use Versamatic's online Pump Selection Tool. Simply enter basic information like fluid type, desired pump material, and environmental details, and the interactive tool will help you choose the right pump.
If you would like to connect with an expert who can answer any questions about lithium battery cell manufacturing or your unique application, contact Versamatic or your local distributor today.
Find these tips useful? Share which tip helped you the most in the comments below.