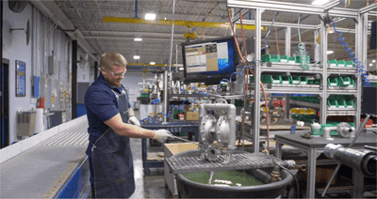 With so many pumps on the market—centrifugal, lobe, gear, screw, hose, piston/plunger—it can be challenging to find the information you need to make the right choice. Product quality, cost, delivery options and post-sale support are all important factors in the decision.
The air-operated double-diaphragm (AODD) pump, however, has proven itself as a market leader when it comes to reliability, versatility and ease of maintenance.
AODD pumps are effective, reliable and safe when used to transfer almost any viscous fluid, which is why a wide range of industries rely on them to keep their operations running smoothly.
What Is an AODD Pump?
An AODD pump uses compressed air, natural gas or nitrogen to power the repeated back-and-forth motion of two flexible diaphragms mounted to a common connecting rod. This continuous motion forces liquid out of one chamber for discharge while the other chamber fills with liquid.
Watch this short video to learn more about how a double-diaphragm pump works.
One of the most powerful workhorses of the industry is also one of the simplest. But what does the future hold for these positive displacement pumps? Spoiler alert: They're here to stay.
Global AODD Pump Market Outlook
AODD pumps are known for reliability, capable of providing years of dependable, consistent service. That isn't expected to change in the foreseeable future.
In Persistence Market Research's latest report, "AODD Pumps Market: Global Industry Analysis 2013-2017 and Forecast 2018–2028," the AODD pumps market is estimated to grow at a CAGR (compound annual growth rate) of 4.8% during the forecast period thanks to increasing demand from end-user industries, including:
Food and beverage
Oil and gas
Water and wastewater
Chemicals and petrochemicals
AODD pumps are widely used in all of these industries, as well as in the production of hemp-based cannabidiol (CBD) oil products, which has also exploded globally over the past several years. In fact, some experts believe that sales for CBD oil-based products such as topical treatments, edibles and beverages could surpass $20 billion in the United States alone by 2024.
Key Factors Driving the Growth of AODD Pumps
Performing in the most challenging applications, AODD pumps deliver many unique benefits that are likely to lead to a rise in pump use in a number of markets and applications.
They are safe: AODD pumps require no electricity and can be fully grounded to prevent static buildup in potentially explosive environments.
They can run dry: AODD pumps can run dry for an extended period of time without damage to the pump or its components.
They can handle solids: AODD pumps can easily and efficiently handle solids-laden fluid without pump or product damage.
They have superior chemical resistance: AODD pumps can be manufactured from a broad range of chemically resistant materials, such as stainless steel, aluminum, cast iron and alloy C for metal pumps, and polypropylene or PVDF (conductive options available) for plastic units.
They are portable: Depending on the pump size and material, AODD pumps can be lightweight and moved easily. Commonly, AODD pumps are fitted to a cart for mobility and application versatility.
They meet required certifications: AODD pumps come with a wide range of certifications and standards to meet the needs of users across the globe.
Geographic Segmentation
The global AODD pump market is segmented into North America, Asia-Pacific, Europe, the Middle East and Africa and South America.
North America holds the largest share in the global AODD pumps market and is estimated to continue to do so into the future due to:
An increase in sustainable water infrastructure projects
An increase in demand from industries such as oil and gas, food and beverage, power generation and pharmaceutical
Europe is expected to be the second-largest market for AODD pumps due to a thriving food and beverage and water treatment market. South America is expected to generate lucrative growth opportunities in the AODD pumps market, along with China and Asia.
The Impact of COVID-19 on the AODD Pumps Market
While many businesses became idle immediately after the pandemic hit, production never really stopped for most AODD pump manufacturers, including Versamatic, which was deemed an essential business and was requested to stay open.
AODD pumps were quickly recognized for their value in manufacturing critical products used in the fight against COVID-19. From hand sanitizers to latex for medical gloves, AODD pumps are critical pieces of equipment used for life-sustaining and -saving product applications.
Committed to Making Pumping Easy
Pumps are the backbone of a manufacturing facility, safely and efficiently helping to keep fluids flowing, which is why Versamatic is committed to making pumping easy—both now and in the future.
Since our founding in 1983, we've set the standard in AODD pump performance. We provide reliable, quality AODD pumping solutions for customers globally who value simplicity, quick delivery and convenience. Backed by an international distributor network and outstanding service and after-sales support, Versamatic AODD pumps are a premier choice for fluid transfer solutions.
If you have questions about the future of AODD pumps or want to learn more about AODD pump capacity, price, specifications, etc., feel free to contact us.