While the majority of businesses became idle immediately after the COVID-19 pandemic hit, most air-operated double-diaphragm (AODD) pump manufacturers were deemed essential businesses and were requested to stay open.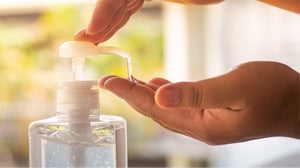 AODD pumps were quickly recognized for their value in manufacturing critical products used in the fight against COVID-19. From hand sanitizers to latex for medical gloves, AODD pumps are critical pieces of equipment used for life-sustaining and life-saving product applications.
Below are some of the many critical applications and industries where AODD pumps are used and the value they bring.
Sanitization Chemical Production
Bleach Production
AODD pumps are widely used in the production of chlorine bleach-based sanitizing and disinfectant products like wipes and household cleaners. The pumps are used for chemical transfer, tanker car loading and unloading, production line bottling and waste treatment applications.
Hand Sanitizer
Because AODD pumps are versatile, cost-effective and portable, many manufacturers have chosen them as their primary pump to handle the liquids used when producing hand sanitizers. Many companies have retooled part of their manufacturing process to make a difference in the world, and AODD pumps assist in making this possible.
Hand Soaps (Liquid/Bar)
AODD pumps help in the production of liquid hand soaps and bar soaps. Both are used around the world to clean and sanitize, further preventing the spread of viruses. AODD pumps are an excellent choice when pumping soaps as their gentle pumping action reduces the risk of foaming or product degradation. In addition to pumping the final soap product, AODD pumps are also a great choice for pumping fragrances and surfactants widely used in soap production.
Residential Laundry Detergents and Sanitizers
Like hand soap production, AODD pumps are used heavily in the production of household laundry detergents and laundry sanitizers. They pump fragrances in the creation of the products to keep homes safer.
Commercial Laundry Systems (Nursing Homes/Hospitals)
Smaller chemical pumps are used to meter concentrated sanitization chemicals and detergents into large commercial laundry systems used in nursing homes and hospitals to eliminate viruses, protecting patients. The superior chemical resistance of plastic AODD pumps is necessary when handling stronger concentrated chemicals (bleach, caustic soaps, sanitizers). AODD pumps can also handle a wide range of temperatures often found in industrial laundries.
Hand Creams
AODD pumps inherently gentle stroking pairs perfectly with the shear-sensitive nature of hand creams all while handling the wide range of viscosities encountered during the process. AODD pumps are also:
Run-dry capable: This is particularly critical as hand soaps are often done in batches. When the tote is empty, the pump, in many cases, will run without fluid for an extended time without damage to the pump or its components.
Self-priming: AODD pumps do not require positive inlet pressure (NPSHA) to prime. When liquid is available on the suction side of the pump, the unit will draw it in and start to transfer fluid once again.
Personal Protective Equipment (PPE)
Clear Acrylic Medical Face Shields/Clear Acrylic "Sneeze Guards"
Acrylic separators have become popular recently, minimizing contact reducing the spread of COVID-19. AODD pumps are used during the chemical blending process along with moving the acrylics to molds and dies.
Latex/Latex Gloves
Increased hospital visits require increase safety protection and gloves are among the most commonly used PPE gear. Due to the chemical properties of latex, it can be sheared easily during the manufacturing process. When cooled, the latex can also clump. AODD pumps are an ideal choice with their gentle reciprocation and solids handling capabilities.
Environmental
Water Treatment Chemicals/Chlorine Production and Dispensing
AODD pumps are used in the production of drinking water purification chemicals like chlorine and flocculants. Those chemicals are necessary to keep the drinking water safe and abundant, which is essential for everyone.
Environmental Protection
Diaphragm pumps are used heavily to protect the environment. At most manufacturing facilities, especially ones using chemicals, there are requirements that any water used to be treated/neutralized prior to reintroduction into the public water system. AODD pumps are commonly used on filter press applications where the water is pushed through a series of filter elements to remove large solids. After the solids are removed, AODD pumps can be used to dispense the neutralizing chemicals, helping keep the environment clean and safe for everyone.
Food Processing
Food Products
AODD pumps are used for multiple applications in producing food products, from sanitizing surfaces for produce sorting tables and meat production areas to pumping yogurt and cottage cheese. AODD pumps are critical in keeping the world's food supply flowing.
Now that you know how critical AODD pumps are in the fight against COVID-19 and keeping people healthy and safe, please contact us for help and guidance.