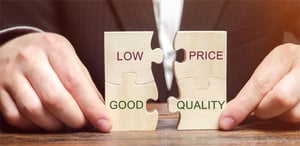 Air-operated double-diaphragm (AODD) pumps are an investment. And, like any investment, you may be wondering how to justify the expense.
The fact of the matter is that a wide range of industries rely on AODD pumps to keep their operations running smoothly.
AODD pumps are exceptionally effective and reliable at safely transferring almost any viscous fluid, delivering unique benefits that are unrivaled by other pump technologies. AODD pumps:
When you consider the reliability, versatility and durability of AODD pumps, they're a bargain compared to other technologies. In this blog, we'll discuss the three things to look at to justify your AODD pump purchase.
1. AODD Pump Price Point
When researching a pump for your application, it's critical to understand the full financial impact of that unit. Generally, AODD pump prices are significantly less than the prices of other positive displacement pump styles, such as lobe, gear or progressive cavity. AODD pumps also don't require expensive motors, controls or the need for expert installation. While the upfront cost is something to be mindful of, you'll also want to consider rebuild components and downtime.
The main wear components on AODD pumps are diaphragms, balls and seats. If moving harsh chemicals or abrasive material, the frequency of repairs will increase. This mean time between failure (MTBF) will need to be understood in order to completely understand the cost impact of your pump.
2. AODD Pump Technical Ability
In addition to MTBF, you'll need to understand how to repair the pump when it fails. Many other technologies require factory representation, special tools or testing prior to reinstalling the pump into the system. This can be very costly.
The inherently simple design of the AODD pump allows for the pump to be repaired virtually anywhere with complete rebuilds commonly performed on the tailgate of a truck. In addition to being simple to work on, Versamatic pumps are backed by some of the best technical support in the industry, including the following:
Data Sheets: Flow curves, weights, dimensions
Manuals: Exploded view of the pump, materials of construction
Videos: Repair videos (air/wet side)
3. AODD Pump Availability
When you're considering a pump for a critical application, you'll want to understand how quickly you can get parts and service. Understanding your manufacturer's lead time can save you time and money in the long run. While many distributors stock common components, many end users will keep spare wet end and air end parts on the shelf, further reducing downtime.
Prior to purchasing an AODD pump, you'll want to verify that the companies you're working with value short lead times, quality products and robust training.
Providing Certainty in Your Purchase
With so many pumps on the market, it can be challenging to find the information you need to make the right choice. Product quality, cost, delivery options and post-sale support are all extremely important.
The AODD pump is a proven market leader when it comes to reliability, durability and versatility. Versamatic's customer service team can walk you through the product, providing you certainty in your purchase.
Versamatic's comprehensive line of pumps, including various specialty pumps, are assembled in the U.S., available in many materials, rigorously tested and designed to make maintenance simple and cost-effective. If you're interested in learning more or have any questions about AODD pump capacity, price, etc., feel free to contact us.